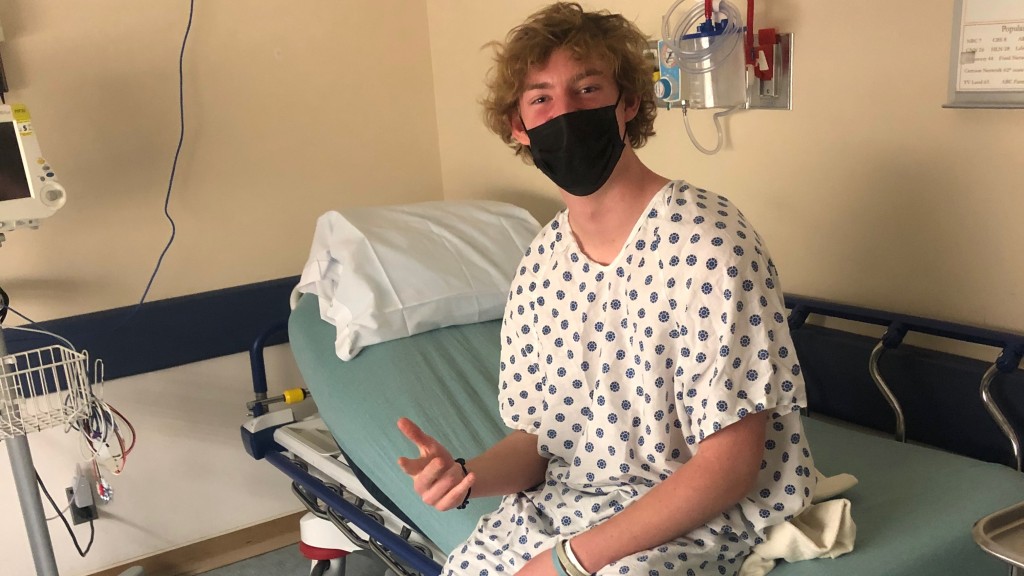 Chronic Disappointment: 5 Ways Our Family Has Dealt with a Year of Long Covid Pain
This week marked one year.
One year of physical pain & exhaustion for our son.
One year of confusion for his parents.
One year of missing school & falling grades.
One year of no sports.
One year of endless doctor appointments.
One year of zero answers.
Twelve months of Long Covid.
Also known as Long Haulers, this title is for people who still experience symptoms more than 4-12 weeks after being diagnosed with Covid-19.
If we'd known our teenage son would go this far past three months of being sick, I'm pretty sure we would've bought stock in heat packs, ice packs, melatonin, back scratchers, electrolytes, muscle rub, and baby aspirin.
Here are the five things we've done in order to deal with the never-ending pain and frustration.
1. Tests, Drugs, Pain Killers
I gave western medicine a chance at the beginning for two reasons. One, to make sure our son Brock didn't have anything life-threatening going on (brain tumor, cancer of the blood, etc.), and two, to appease my husband.
After a CT scan, MRI, EKG, ophthalmoscopy, urinalysis, and multiple blood draws, they found absolutely nada. They also tested for Mono, Lyme, adrenal issues, POTS, allergies, etc., and every single test came back normal.
The number of prescription drugs coming into our home in the past year makes my head spin. I'm not a fan, but they've brought a little relief here and there.
Brock's given blood more times than I can count, but one time there were two orders from two specialists. The technician either didn't know better or wasn't paying attention, and proceeded to take 30 vials from Brock's arms, causing him to throw up during the procedure. Twice.
2. Vitamins, Herbs, Sun
After months of nothing changing, I turned to holistic methods and more of an eastern medicine approach.
The shortlist: acupuncture, upper cervical chiropractic, oregano oil, vitamin D, colloidal silver, zinc, quercetin, ozone therapy, turmeric, electrolytes, essential oils, IV vitamins, and massage.
Then I paid a visit to our local Organic Roots market. The employees there have extensive knowledge about all things health, and they said he should also take licorice root and lay in the sun for a few minutes every day, sans sunscreen. So he took that and did that and mostly stayed the same. Ugh.
3. Prayer
If you're not a Jesus-follower, I can see why you might think this is an unnecessary step. We believe otherwise.
Besides the fact that God tells us to pray, there's a palpable peace when we voice our desires and trust He knows best. This doesn't make dealing with the constant disappointment and pain easier, just more peace-filled.
"Is anyone among you sick? Then he must call for the elders of the church and they are to pray over him, anointing him with oil in the name of the Lord." ~James 5:14
So we did. In our family room and online, friends and family joined us while we prayed diligently and with confidence. Placing oil on his forehead, we saw Brock's shoulders drop and his guard lower as tears fell. I'd love to tell you he opened his eyes and the pain dissipated or woke up in a new body, but there were zero changes.
As his mom, this gave me pause. I am well aware God answers prayers in His own time and is not a genie in a bottle. But I felt a slightly nervous tension that if this "didn't work" then it would cause Brock to question his faith. Please Lord, if you're not going to heal him today, tomorrow, or next week, increase his faith in a different way.
4. Expectations
We've eased up on a whole myriad of things we used to be consistent about. From technology guidelines and bedtime suggestions to social outings and weekend curfews… we backed off, let the lines blur, and called it good enough.
This part isn't easy for me. It seemed like every previous routine flew out the window, schedules turned upside down, and parenting felt chaotic. But Brock's mental health rose to the top of our concerns and we realized certain things didn't matter as much as his well-being.
Which leads to number five.
5. Say Yes
Staying home with mom and dad is only fun for so long (haha), and we don't want depression to set in, so we've said yes to almost every one of his social invites.
It's pretty disappointing watching your friends go to football games, restaurants, concerts, parties, summer camp, etc. while you're stuck on the couch weekend after weekend.
So when he feels good enough to go somewhere, the answer is usually yes. He's still in pain, but we're always stoked for him when he can go have fun. We all know tomorrow might be miserable, but he will quietly argue, "It's worth it."
I realize some people have negative opinions about mental health, especially since it's become such a buzzword. But until we were faced with watching our child in chronic pain, we didn't realize how much it mattered. Strange how we don't give a little more grace to the most complex part of the human body.
The Results
News flash: my husband and I don't see eye-to-eye on health. Not on nutrition, sleep, vitamins, water, essential oils, exercise… not even screen time. So at the end of these painful twelve months, helplessly watching our son continue to struggle, guess who won?
satan. Yes, the guy who is out to make us all insane and will forever deserve a lowercase s.
A year of inconclusive evidence made for a discouraged man-child still in pain, and two discouraged parents. Sometimes we pointed the frustration at the confused doctors, sometimes at our healthcare system, and sometimes toward each other.
We each thought our way would certainly produce some sort of solution, but so far conventional western medicine vs holistic eastern medicine has resulted in a frustrating tie.
I played a good amount of sports all throughout my childhood and teens—I'm not a fan of ties. I didn't need to win this one, but I definitely don't like admitting my organic, holistic approach didn't work the way I hoped it would. It felt like a huge fail and a super discouraging loss in the continual search to find a cure.
Now What?
Our repetitive, million-dollar question. Every day is different and every week unpredictable. Sometimes Brock goes to school four days in a row, and sometimes he's home four days in a row. He never sleeps well, and never knows if he's going to be able to go to school or serve at church until he wakes up.
For a straight-A student since forever, watching your grades slip, slip, slip is a disappointing fade. Since not being able to retain or quickly recall much information, tracking with lectures and taking tests just compounds the problem.
Fortunately, his high school granted him extra help and longer time on tests, but sometimes it feels like a thin string when what he needs is a fat lifeline rope. On a daily and weekly basis, Brock continues to battle the following:
Headaches
Brain fog
Dizziness
Body aches
Hot flashes
GI issues
Joint pain
Flu-like stomach aches
Body rash
The idea of dealing with Long Covid for the long haul brings more disappointing thoughts, so I joined a couple Facebook support groups. Know anyone who needs new ideas or a shot of solidarity?
#1 – "Long Hauler Support Group: H1N1, Covid-19 & Other Pandemics." It's worldwide, has 1.5K members, and about twice that many opinions.
#2 – "Living Faithfully with Rare & Chronic Disease." My friend Nicole started this after she collapsed one day with bleeding lungs. Her group is specifically for Christian women and has tons of encouragement. Her page's description:
"This is a faith-based, hope-focused group for chronically ill Christian women with rare/undiagnosed disease and their caregivers."
I recently joined because she has a few members who battle Long Covid. As a caregiver, I'm always down for helpful tips and encouragement.
Nicole also wrote this ebook, When Morning Dawns: The Hope of God's Presence in Your Storm. At only $1.99, you could buy one for yourself and one for a friend.
If you know someone who's struggling with Long Covid, please share this post with them. One thing we've learned this year—support from friends and family makes a huge difference.
Do you have additional info about Long Covid? We're continuing the fight to get our son relief, and any helpful solutions are welcome in the comments below.