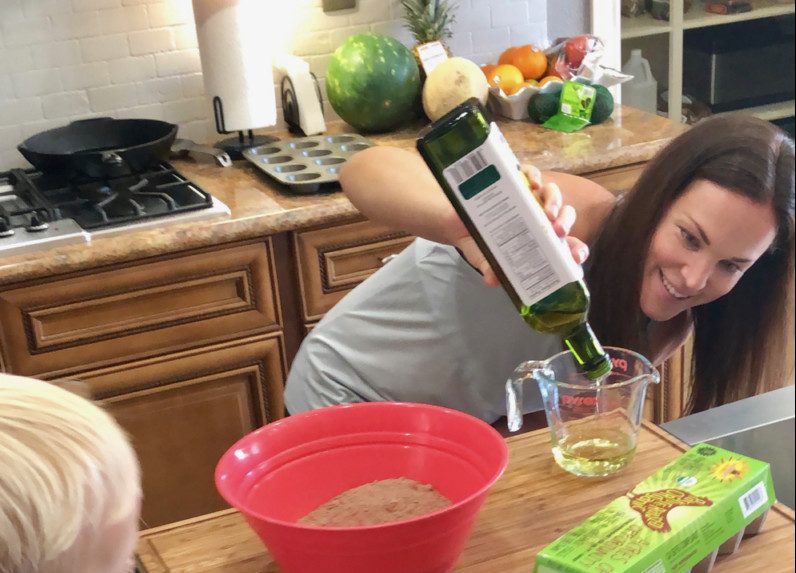 Cooking Tips & Tricks from My Classically-Trained Le Cordon Bleu Neighbor Chef
In 2002 I spent my days chasing a toddler while my friend Jen chased a dream to culinary school.
Fresh out of high school, she donned a white coat, white skull cap, and jumped into chef training at none other than Le Cordon Bleu.
Eighteen months later, after cuts, burns and hundreds of food victories, she received an Associate of Occupational Studies degree in culinary arts.
I didn't know her back then, but since we currently live eleven feet apart (yes, I measured… at night… like a creeper), I stuffed my intimidation and decided to find out more.
She invited me over on birthday cupcake day and we had a little too much fun in her kitchen while I learned fun new tips, tricks, and recipes.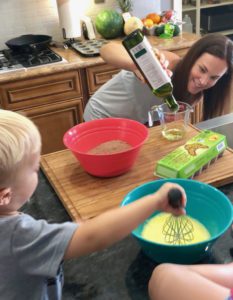 Welcome to our interview, neighbor-style. (Whatever that means.)
Where have you worked as a cook?
Daily Grill in Los Angeles
Bear Creek Golf Club in Murrieta
Balboa Bay Club in Newport Beach
I also interned at Caesar's Palace in Las Vegas, and for a Golden Globes Gala in L.A.
What are your best beginner tips for new cooks?
One of the first things we learned in culinary school was "Mise en place," which means everything in its place. Sounds fancy, but it's a good practice for me in my own kitchen too. Read the recipe several times, prepare the ingredients (clean, cut, measure, etc.). Once you have your mise en place, begin cooking. More prepared = fewer mistakes.
Chop your garlic first. This allows the main antioxidant, allicin, time to release, making garlic that much better for you.

Salt as you go. Salt brings out natural flavors, so with each new veggie you put in the pan, add a little salt. Never salt your meal at the end—the flavor won't incorporate into the food and the effect is overpowering.
Do you have intermediate tips for people ready for the next level?
Up your game to cast iron cooking. Cast iron pans provide extra iron in your diet (lots if you're cooking tomato sauce), and can be used to make everything from quiche and cornbread to steak and roasted veggies.

Put a seasonal spin on your favorite dish. Fruits and veggies in season are often the most affordable and usually on sale.

For example, you can do a roasted chicken and serve it with a pea pesto and asparagus for spring. In the fall, try chicken with a side of roasted Brussels sprouts, butternut squash, and cranberries.
Can you share an advanced tip for my ambitious amigos?
Practicing your knife skills will bring uniformity and aesthetics to your cooking. You can purchase a little kit from a kitchen supply store that shows you what particular knife cuts look like, watch YouTube videos, and practice your julienne and chiffonade cuts.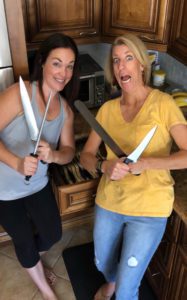 Anything surprising thing you learned at Le Cordon Bleu?
We couldn't take our leftovers home!
…and that most culinary school graduates don't end up cooking professionally.
…and that experience completely outweighs a degree.
What were the most challenging recipes they ever asked you to cook?
Beef Wellington, consommé, and soufflé were extremely difficult because there's a small margin for error.
What was the hardest thing they asked of you?
Preparing soft-shell crabs was a terrible experience. I felt so bad for the crabs because they were still alive when we cleaned them with kitchen shears. I was told you cut off their eyes first, "so they won't see what's coming." I cried.
What was your worst cut or burn?
While chopping at Le Cordon Bleu, a carrot rolled with my knife in it and I cut a chunk out of the tip of my thumb. Blood gushed and I was so grossed out that I bit down on my senior chef's coat shoulder while he helped with the bandage.
Then, while working at the Balboa Bay Club, I managed to shoot scalding hot oil up my arm at the beginning of service, so I worked the whole night with large blisters. I obviously don't do well with blood, so I'd much rather be burned than cut.
Any favorite cooking movies?
Yes!
What's your dream job?
To be an owner/chef of a casual, organic, allergen-free restaurant.
Any fun or unusual experiences as a cook?
Julia Child was a guest at our Le Cordon Bleu school, and I helped prepare the dessert she ate. I also got two of her books autographed.

Mario Lopez attended a fundraiser we catered.
We cooked in an ambassador's home overlooking the whole city of L.A.
Jen's Faves
Gluten-Free Snacks:
Hummus with a protein or veggies
Chilean salsa with cucumber slices
Bananas or apples with sunflower butter
Vegetarian Dish:
Paleo Dishes:
What's the hardest looking dessert to make that's actually easy?
Bananas Foster, paleo brownies or ganache.
What about kid-friendly foods?
My kids love Paleo waffles and granola with coconut yogurt and honey for breakfast.
They're also crazy about what we call Monster Muffins.
For lunch, grilled cheese sandwiches prevail.
Besides brown rice pasta, they love fried rice with riced broccoli and cauliflower for dinner. I sneak them in to increase their veggie consumption.
Any brands you can't live without?
Any brand that makes eating dairy-free, corn-free, soy-free and gluten-free easier:
Daiya, Primal Kitchen, Canyon Bakehouse, Miyoko's, Simple Mills, Pamela's.
Jen's Kitchen Tips & Tricks
Always double your recipes so you can freeze leftovers for another dinner down the road.
Roasting vegetables sweetens them by caramelizing the naturally-occurring sugars.
Save leftover bones and vegetable scraps to make bone broth for the base of soups.
Juice your citrus, pour into ice cube trays and freeze so you're ready whenever a recipe calls for lemon or lime juice.
To ensure even cooking, let raw meat sit out for about 20 minutes before cooking.
A quick marinade with oil, vinegar or lemon juice, herbs, and salt will help flavor and moisten meat. It's also supposed to dramatically cut back on carcinogens.
Always let your cooked meat rest before cutting so the juices don't run out.
And here's a fun tip from your host, Chef Carrie… piling brownies on a round tray and dusting them with powdered sugar makes them look fancy. Even if they're from a box.
Real Life
What was your biggest cooking fail?
I purchased a salt block because I read you can cook a steak on it. I ended up with a sad, grey, rubbery ribeye. I now know salt blocks are great for seasoning but not to cook with.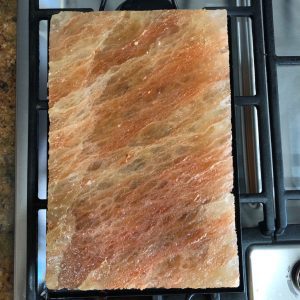 Also, I undercooked a turkey on Thanksgiving.
What's the most random food pairing you create?
We stole the idea from a restaurant, but my husband and I enjoy almond butter on our burgers.
I also love ketchup on my rice.
What's your most expensive "totally worth it" food?
Great olive oil. I buy mine from Temecula Olive Oil Company. They have a tasting room so you know exactly what you're buying.
Any food items you never compromise on?
I always buy the Dirty Dozen organic, especially if they're on sale.
Organic chicken, pasture-raised eggs, and grass-fed-and-finished beef are my non-negotiables.
Any favorite cooking shows?
We don't have regular TV anymore, but I enjoyed Good Eats with Alton Brown because he always explained the science behind the food.
Chef's Table is a behind-the-scenes docu-series on Netflix about chefs around the world.
What's your ideal cooking scenario?
Cooking with my husband. He's great at prepping food and cleaning as I cook, plus he's great company. Music and a glass of wine are nice, but I tend to overcook or burn food when drinking.
Also, no food budget would be a dream.
If you entered a cooking contest at a state fair, what would you make?
Chocolate zucchini cupcakes with ganache filling and goat cheese frosting.
Ooo… yes, please!
If you were on a cooking show, what's one ingredient you'd want?
Scallops! They're delicious, quick and versatile.
What's your favorite thing to take to a dinner potluck?
My family and I have food sensitivities so I usually Google "one-pot meals" for the ingredients I have on hand.
Any other thoughts?
Resist buying special tools for just one item, like an avocado slicer. All you need is a spoon and a knife. Most "specialty tools" clutter your kitchen.
Throw out your iodized table salt and only use sea salt and kosher salt.
Make your own spice blends, like seasoned salt and taco meat spice. This will save you and your family from unnecessary preservatives and binders and will save you money too.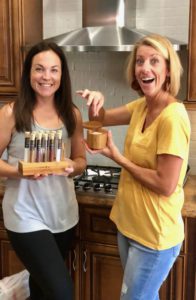 I asked Jen's husband how awesome the cooking part was when they first started dating and he laughed.
"Oh yeah, it's great dating someone who graduated from culinary school. Until you realize you've gained 20 pounds in 30 days because you mention dessert and 15 minutes later you've finished your seventh homemade cookie."
So there ya go. My Le Cordon Bleu-trained neighbor, eleven feet away, isn't so intimidating after all.
And though she doesn't do home tours or signed headshots, show up on a random evening and you're bound to find our families in the cul-de-sac, riding scooters and skateboards, throwing a football and talking about life.
Because at the end of the day, we're all just a bunch of adults trying to get food on the table and keep our people alive.
Favorite Julia Child Quotes:
"Cooking well doesn't mean cooking fancy."
"The only real stumbling block is fear of failure. In cooking, you've got to have a what-the-hell attitude."