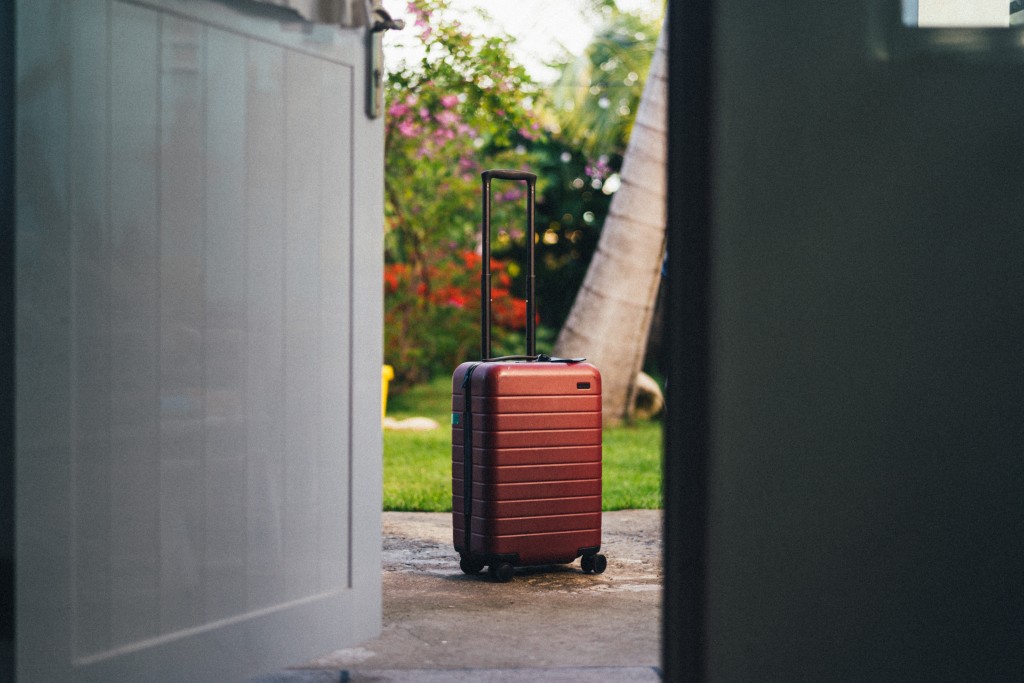 Three Summer Vacation Hacks to be More Organized: How to Pack Smart, Move In, & Return Happy
Happy Summer, Friend!
I hope you get to go somewhere fun in the next couple months. Even if it's not tropical or bougie, just getting out of your normal routine is great for your sanity. Throw in some yummy restaurants and forced family bonding, and you'll definitely be coming back as a happier version of yourself.
I mean, as long as your airline doesn't lose your luggage, you don't win a lifetime supply of mosquito bites, and nobody barfs on day two. That would obviously put a damper on the whole point of dropping hard-earned pesos on a getaway.
Moving along…. Here are three hacks for preparing, living, and returning as your best vacation self.
(That wasn't my best sentence, but it's summer and I need a vacation.)
Packing Smart
While standing in front of my open suitcase, I usually overthink swim situations, the highs and lows of weather, possible workouts, fruit availability, closet space, pool towels, wind factors, hiking terrain, jewelry options, mosquito attacks, and snack sustainability.
Don't do this.
When procrastination and excitement go hand-in-hand, I'm bound to get distracted by the forthcoming potential lifelong memories and admiring my heavy duty zippers at the same time. Then I immediately spin myself into a tizzy about how I'm going to fit my favorite kitchen sink items into this stupid box on wheels fit for a hamster.
Don't do this either.
Instead, put back about a quarter of what you got out (half if your last name rhymes with Carmashian) and then reach for your packing cubes. No packing cubes? Here—you can use mine:
Amazon Basics 4 Piece Packing Travel Organizer Cubes Set
If you're anything like me and see the logic behind keeping your clothing separated by category, packing cubes are for you. They're for your significant other too. And your kids. And your parents. And your neighbors. Maybe not your boss, but definitely your mother-in-law who "accidentally" overpacks every single time and then giggles about her shoe fettish.
The point is, they're super lightweight. Not your MIL's shoes—the bags. Stay focused. They also come in all different sizes, are loved by over 36,000 people, and make searching for the day's outfit lightening fast. Whoosh! You're dressed in a flash and you're not the slow one who everyone's waiting for by the door anymore.
I'm not saying you were slow before, I'm just saying you're gonna be faster. Like a dragonfly on a mission.
Did you know dragonflies are the fastest flying insects? Yep—35 miles an hour. Once you have packing cubes in your life you're gonna be like a dragonfly on vacation.
These rad cubes also make a great gift for the people in your life who travel like it's their job. Which, for some it probably is, but then it's not as fun. Thank goodness there are packing cubes to help make their boring work trips more fun.
Here's a different kind in case you weren't already convinced five paragraphs ago:
BAGAIL 6 Set Packing Cubes
Ready to go? No, I mean are you ready to go. If you're staying with anyone besides yourself and sharing a bathroom, don't leave home without the travel size of this brilliant invention:
Poo-Pourri Before-You-Go Toilet Spray, Variety Travel Size
Perfect size for a stocking stuffer too. Heehee. There's not much more to say here except your people will thank you.
Moving In
I realize some people (read: my husband) don't give a rat's drinking glass about living out of a suitcase while on vacation. I, on the other hand, thrive on taking advantage of the closet space and drawers provided by the room I'm staying in.
Besides the fact that unpacking helps my brain feel organized, I can find things faster. (Kinda like a dragonfly.) Aaand… hanging my shirts helps get the wrinkles out! Plus, you know how fast a suitcase can go from folded beauty to mountainous disaster.
I don't need anyone seeing my Kilimanjaro of fabrics, all twisted and conjoined like one gigantic volcanic spaghetti pie.
Do yourself a favor and unpack. Then zip your box on wheels, stash it in the closet, and enjoy the extra floor space around your crowded room.
Returning Sane
Three words before you leave your hammock and thank the towel boy: Do. The. Laundry.
Don't walk away—hear me out. I realize doing laundry on the last day of your vacation sounds like a terrible thing, but I'm telling you… this little hack is a total game changer. The first time I tried this I was skeptical, but I forced myself to follow in my friend's footsteps.
Holy guac…she was right. The depressing parts of coming home from vacation usually revolve around a weather change, overtired people, and mountains of laundry. I'm not high-maintenance, but that last one always made me feel like I needed a vacation from my vacation.
Welcome home! Get to work.
Now when I get home I open my suitcase and only have to put away clean clothes! Hallelujah and amen. This is my forever go-to and I'm not sad about it one bit.
Bon voyage, expert traveler. And may the fourth of July be with you.
What about you? Whether you've mastered the local staycation or traveled the world, what tips and tricks work for you? Do share!