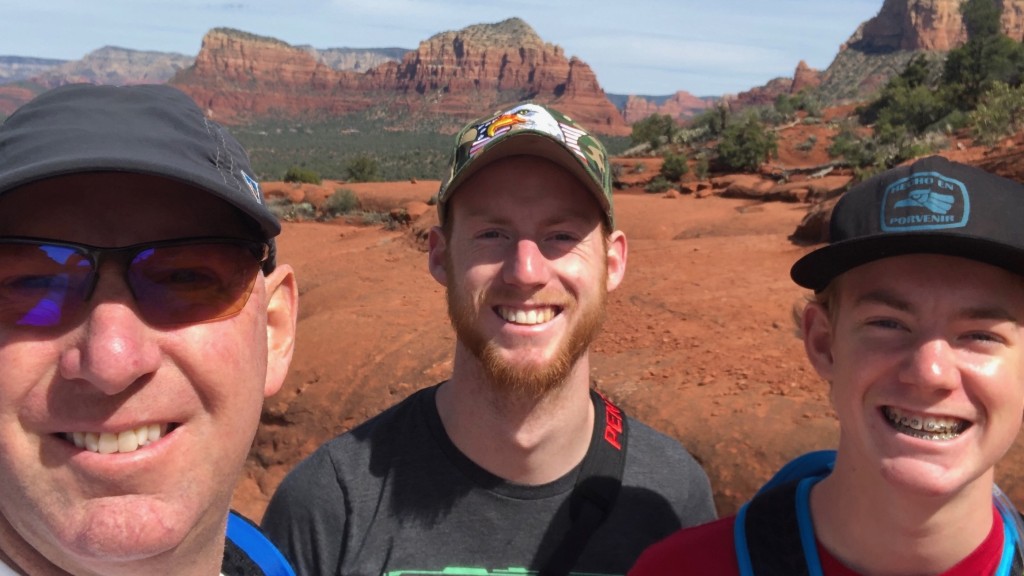 Father's Day Gift Guide for the Young & Old: Cool, Trendy, & Fun Ideas Your Dads & Grandpas Will Love
June 18 is right around the corner, so it's time to think about what the dad, uncle, or grandpa in your life would like. And don't forget about the new dads too!
I scoured Amazon for you, and all of these recommendations have excellent ratings. Duh—you know I wouldn't steer you wrong.
So put down the tie, step away from the mug, and believe me when I say no man wants a "World's Best Dad" shirt. Those might (or might not) be cute, but these are rad…
Young Dads
They're tired, rookies, and need a break. Take their minds off diapers for a minute with these fun gifts:
Your Baby's First Word Will Be Dada, by Jimmy Fallon
Or will it? Most people know how funny Jimmy Fallon is, and this board book perfectly represents his personality.
LEGO Volkswagon T2 Camper Van
One of my dream vehicles is now a Lego set? So retro, so cool. Yes, it's on the higher side, but much cheaper than the actual van.
NFL-Opoly Junior
Get the young dad in your life ready to play the junior version of the classic Monopoly with his little girl or boy! Added bonus… it doesn't take as long to play as the adult one. Hallelujah and amen.
Mid-Life Dads
Stuck between stories of middle school drama and taking care of boomers, mid-life dads need a break too. Make their lives easier by getting them a gift they won't want to return:
Electronic Flameless USB Lighter
I gave this to my husband for Christmas and our man-child boys were enthralled, repeatedly clicking and looking for something in the family room to set on fire.
Now it's a camping staple. His buddies were also impressed when he started the fire without a flame and used the USB cord to charge it with his phone. It's windproof, flameless, rechargeable, comes in nine colors, and a one-time charge can be used more than 60 times. And yes, there's a safety lock. You're welcome, moms.
Billabong Men's Tides Straw Hat
While protecting yourself from skin cancer, you might as well look trendy doing it. Worried about losing it while skydiving or riding on a boat? Kick in sport mode with the chin strap and let your worries fly with the wind.
(Just kidding about skydiving—you should definitely wear a helmet. 'Cause, ya know, if you hit the ground at an unexpected speed I'm sure the helmet will help.)
LEGO Friends Central Perk Set
Inspired by the hit TV show, this set brings back alllll the nostalgia. It's a perfect replica of the coffee shop where the young actors spent way too much unrealistic time. But so fun!
LEGO Technic Fast & Furious Dom's Dodge Charger
Need to kick it up a notch? This car says awesome without having to throw down for the mid-life crisis real deal. Double points if he lets his kid help build it.
HOKA Tennis Shoes
My business partner showed me these a couple of years ago and I wasn't so sure. Because of the impressive cushion, HOKAs have been worn by doctors, nurses, and delivery people, but were considered a tad nerdy.
For some reason millennials and Gen Z saved them though and now they're cool. The styles are vast and the colors are even vaster. (my new word) With style names like Bondi, Clifton, and One One, you have a ton of looks to pick from.
So now I'm in our client's homes (on my happier feet for up to 10 hours) with my new HOKAs and my business partner is resisting saying "Told ya."
Old Dads
Older dads can still be cool! These will help:
Cars & Trucks Waffle Maker
When I was a kid & teen, my dad made waffles for dinner every Sunday night for years. My sister and I loved it! But they were just plain squares.
Help grandpa bring their adult kids and grandkids to the table with this rad automobile waffle iron! The breakfast attention-grabber will be the hit of the kitchen.
GCI Outdoor Freestyle Rocker Chair
Hydraulics on an outdoor chair? Yes to the please. I've been eyeing this chair for a hot minute, especially when we're at outdoor sporting events and the people next to us look ridiculously comfortable. Plus, over 16,000 people gave this five stars! Rock on, Grandpa.
Alex Trebek: The Answer Is… Reflections on My Life
Here's the clue… my dad's always been a faithful Jeopardy fan, so I gave him this book for his birthday.
What is… turn off the news and read the book?
Correct! Go again.
The pancreatic cancer journey Alex walked through is not for the faint. His one and only book covers a range of topics, including parenthood, spirituality, philanthropy, marriage, success, education, etc.
Truff Starter Pack
"I dare you to find a better hot sauce." -Oprah Winfrey
The perfect gift for the dad or grandpa who has everything. This black truffle hot sauce, black truffle oil, and black truffle sea salt set will most definitely have the neighbors wanting to dine with him. He can start by putting it on eggs and then let his imagination get spicy!
Hmm—that sounded weird.
One month, friend. That's plenty of time to impress your dad, send love to your grandpa, or congratulate the new (tired) dad in your life. Order now though so they don't run out!
So? What did you buy? What else did you find in your search? Share in the comments so nobody has to go to the mall, kay?