Gossip: Loose Lipps Sink Ships
"Some say our national pastime is baseball. Not me. It's gossip." ~ Erma Bombeck
When he welcomed us into his rad classroom, we eighth graders knew we finally made it to the top. To be in Mr. Lipps' class meant we got the cool English teacher.
Of all my junior high classes, this particular one simultaneously thrilled and unnerved me. The middle-aged, borderline hippie spoke with authority and sauntered between our desks with an abundance of confidence.
His "Loose Lipps Sink Ships" poster spanned the width of one wall and sat higher than our heads when we stood. It struck me as deep… forward-thinking… high school-ish.
And I had no idea what it meant.
To this day I possess zero memory of Mr. Lipps ever explaining the play on words or the meaning of the original quote, but I do remember feeling like a dope when it finally dawned on me in my 20s. Maybe my 30s. I can't be sure.
The American English idiom originated on propaganda posters during World War II for the U.S. Armed Forces and was code for "beware of unguarded talk". They used it to advise servicemen and other citizens to avoid careless talk concerning secure information that might be of use to the enemy. (Wikipedia & Eyewitness to History)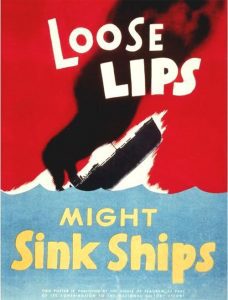 Though I got a delayed start in understanding, I'm grateful for the gossip lesson Mr. Lipps planted in my mind. I wish someone would have ingrained this concept before it became a seemingly harmless habit though.
I find it ironic that he never taught us about the poster but drilled us with a list of 23 words, day after day until every student could rapidly regurgitate them. For years this list merely took up brain space—then I became a writer.
Behold, passive verbs:
Is Am Are Was Were
Be Being Been
Has Have Had
Do Does Did
Shall Will Should Would
May Might Must Can Could
Since 1988 I've been able to rattle these off, fire drill style. Not a skill to brag about at a cocktail party, but it's okay 'cause I don't go to cocktail parties. I'll try to resist reciting the (now handy) list next time I see you. #nerdpatrol
And then the lessons collided. He inadvertently taught us about gossip and intentionally taught us about passive verbs. What about passive gossip? Is that a thing? Seemed possible, especially for those of us who aren't vicious in the way we innocently talk about others.
"Hey Siri… what is passive gossip?"
"Here's what I found on the web for 'What is passive gossip':"
Active vs. Passive Voice: Grammar Gossip
Gossip or Passive Aggressive Behavior
The Secrets to Handling Passive Aggressive People
Besides that first one, the rest of the results connect gossip to passive-aggressive behavior. Even at the end of 820,000 results, 38 Google pages deep.
Eww.
Thank you, Siri.
Define It
Casual or unconstrained conversation or reports about other people, typically involving details that are not confirmed as being true. (Google)
A person who likes talking about other people's private lives. A scandalmonger. (Google)
Idle talk or rumor, especially about the personal or private affairs of others. (dictionary.com)
Gossip doesn't have to be wickedly cruel or disgraceful to do damage. But if we casually share detrimental information with those who are neither part of the problem nor part of the solution, what's the point?
Tips to Keep Gossip Flowing
It doesn't take much effort, really. Just let whatever comes into your brain flow out of your mouth, and voilà.
Livin' in a tiny town? You probably know more than you should about the neighbor on the corner and wonder why she did what she did. Ask around so you don't explode.
Livin' in a large town? Seeing friends at the post office is still possible, but maybe church is where you can truly flaunt your busybody skills and let people know who needs prayer.
Livin' in a small city? Being intentional is crucial when you rarely ever bump into friends. Make the most of your encounters by getting down to the nitty-gritty.
Livin' in a big city? Even loneliness steps aside when juicy words start flowing through your device. For optimal stretch and coverage, text early and often.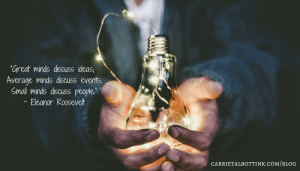 I love how Mrs. Roosevelt tapped into human nature and divided our tendencies into separate categories to help us remember what truly matters.
For Example:
Talking About Ideas: Creativity, Entrepreneurship, Spirituality, Knowledge, Relationships, Philosophy, Art, Music
Talking About Events: Weather, News, Sports, Politics, Television, Concerts
Talking About People: Gossip, Drama, Neighbors, Friends, Family, Coworkers, Politicians, Pastors
My Spouse Isn't Base
Neither is my mom, my sweet aunt, or my third cousin once removed who pinky promises to never utter a word.
I thought I stood in the clear with my husband as long as the gossip didn't leave our marriage. But my husband is human. When I tell him things about others, I pull him into the abyss of judgment and imagination.
Proverbs 26:22 says, "Listening to gossip is like eating cheap candy; do you want junk like that in your belly?" (MSG)
And when he tells me things, even if they're true, my cranial creativity bears the potential to go off the charts.
The Bible doesn't tell us to resist gossip except with our spouses. It says to resist gossip. So I'm trying to run my thoughts through this filter:
Is it true?
Is it kind?
Is it necessary?
If not, let it go unsaid.
Countless pieces of information qualify as true. But if they don't hold up in the kind and necessary categories, they're out.
In her new book, Zip It, "Karen Ehman empowers readers to put into action the advice and commands of Scripture concerning the tongue." (Amazon)
Such effortless sentences to type! Since becoming more aware of this awkward topic, I can't deny when the Holy Spirit taps… warns… convicts. Do you hear it too? Strength to listen, and courage to stay quiet—these are what I strive for.
Gossip is alive and well down here in Baja, especially in small towns and churches. It runs rampant in cute countries like Iceland and Denmark, too. But Christ-followers in all countries are held to a higher standard.
How can we zip it, tame our tongues, and talk about meaningful subjects instead of people? Maybe I'll start by asking how God is working in your life instead of why your neighbor bought another car or if you think it's going to rain again.
"Troublemakers start fights; gossips break up friendships." Proverbs 16:28 (MSG)
Do you have any anti-gossip tips? I'd love to hear about them in the comments!