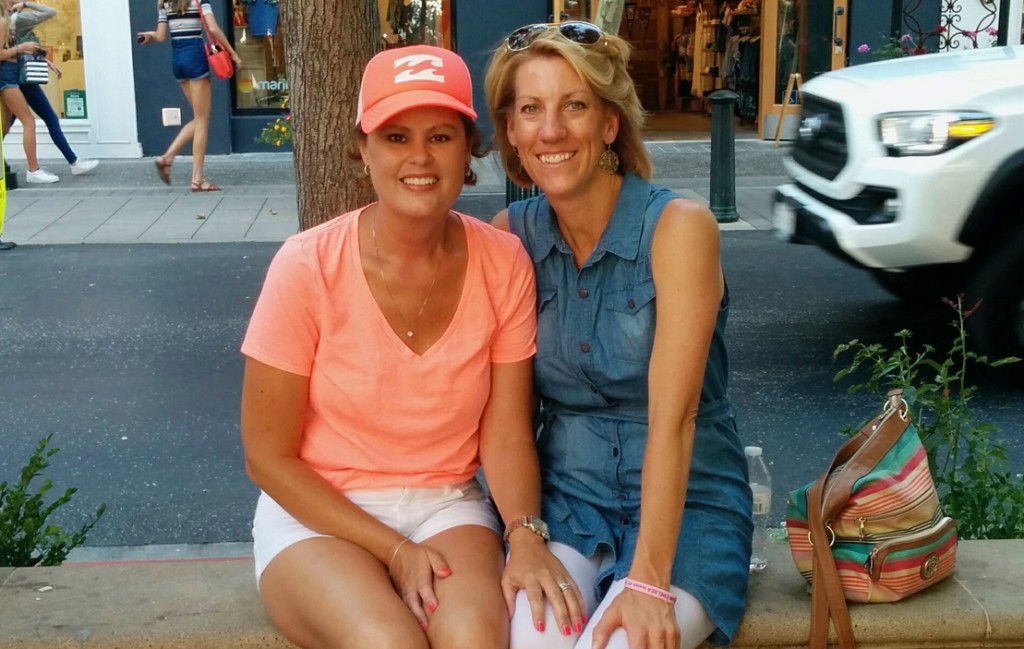 The Day I Deleted Her Info: Saying Goodbye to a Lifelong Friend
Just because two sets of parents are good friends doesn't mean their offspring will follow suit.
So was the case with Chelsea and me.
We saw each other every summer at Mount Hermon and ran through camp together while our parents hung out and caught up. It took 358 days to bring us together again, and we continued that pattern through childhood and adolescence.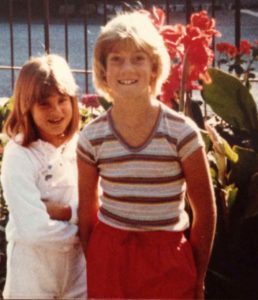 I'm writing a book for a woman about grit and resilience. Besides living in another country for 12 years, I haven't had many events or occasions that forced me to dig in and claw my way out.
And in a weird way, I feel bad about that. People who get dragged through sludge and dropped off face down earn stripes that seem admirable. Commendable. Honorable.
Me? My first 20 years consisted of a stolen bike, a few car accidents, a black eye, and a broken heart.
My next 20 included a miscarriage, a dozen years south of the border, a stolen catalytic converter and a few friends who went AWOL.
Sad for me, but not exactly the trauma some deal with on the regular.
God promises us we will have trouble in this world though, so I figure 'grit' and 'resilience' aren't bad things to entertain. For years I've felt like I've been on the edge of something tragic, so a little pre-traumatic growth couldn't hurt—might help.
In an effort to educate myself more about the topic and become a better writer, I'm reading a compelling new book called Option B.
After suddenly losing her 47-year-old husband, author Sheryl Sandberg (C.O.O. of Facebook) caused me to dog-ear page 16 when I read the following:
"We plant the seeds of resilience in the ways we process negative events."
I read the line over and over.
How do I process negative events? The older I get, the more they show up. Money vanishes, our teeth start rotting out of our skulls, and people die.
Don't bother assuming I compare the three; just because I squished them together in the same sentence doesn't mean they're equal.
But after I typed that I realized they do have something in common: Chelsea.
About eight years ago God brought us back together again, right around the time she got diagnosed with stage-four breast cancer. Her valiant battle jerked her through biopsies, MRIs, scalpels, drugs, dental surgery, radiation, new tumors, the Cyberknife, and chronic pain.
We drove and ate and walked for hours. New prayers, old restaurants, and great cell signals from Baja to Los Gatos kept us linked.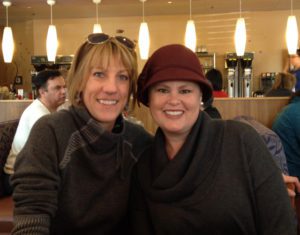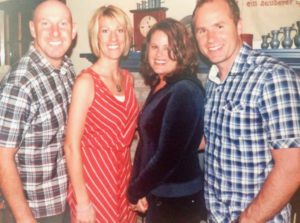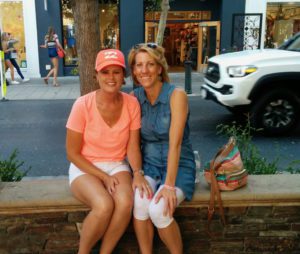 She made it to 42. That was it. Blew out the candles, took a turn for the worse, and met Jesus face-to-face.
How I miss her face. Even in the midst of nasty drugs and bleak diagnoses she always wore a smile. Optimistic but honest, we shared similar struggles, rolled our eyes about female issues and laughed about similar annoyances.
Have you lost a soul sister? A faithful friend? A son who shared your blood? I'm sorry if you've had to walk that road. It never seems right or fair.
Gifts
For my 40th birthday, Chelsea sent me a huge candle embedded with real apples and cinnamon sticks. The perfect autumn scent permeates the room with memories of my brave friend and makes me miss her more.
I want to burn it to remember her as much as I want to never burn it so it doesn't fade away.
Sorry, not scratch & sniff–just click and drool.
For my last birthday, she gave me an incredibly fragrant Coconut Hibiscus lotion. "This is my favorite gift to give," she said.
I want to use it every day because it makes me remember our fun times, especially in the summer. But I also want to leave it alone and make it last for-almost-ever.
Are you holding onto a gift from a loved one who's no longer with you? Strange how things like lotion and candles can bring comfort.
Delete
Since I'm the proud owner of an archaic phone with limited storage and lame capabilities, I regularly delete old texts in order to save space.
Except Chelsea's.
I have no desire to delete the last few years of messages we sent back and forth. Pictures of her fingers holding the chapstick I sent her. Marriage questions we tossed back and forth. Prayer requests before going into yet another surgery. Encouraging words, comments, laughs, and devastating news. Again.
I constantly asked about her latest doctor appointment and she constantly turned the conversation back to me. When the evil disease jumped to her brain, she couldn't remember what she had for breakfast but she continued to ask about our ministry in Baja, Doug's job, my writing, our move, and our boys' transition.
Do you know someone who's outward-focused? They could be in between barfing and napping, but they still want to know how you're doing. Incredible examples of selflessness. I want to be like her.
The last time Chelsea called me her voice sounded hoarse. Cancer attacked her vocal cords and she could only stay on the phone for a few minutes.
The last text in our thread came from me, one day before she left this earth. I knew she was fading and there wasn't much left to say. All the obvious prayers and hopes and what-ifs already whispered their way in and out of our conversations.
So I kept it short and simple. "I love you, Chelsea!"
She never wrote back.
Tuesday to Thursday
On my weekly prayer calendar, Tuesday equals Health. I add and subtract friends and family every few months based on what they're going through, praying for healing and endurance on their individual journeys.
For the past seven months, I've left Chelsea's name sitting there on Tuesday. Crossing it off my list seemed too sad. Too permanent. Too cruel.
I know I don't need to pray for healing anymore… her body is more perfect and whole than ever.
So I deleted her name.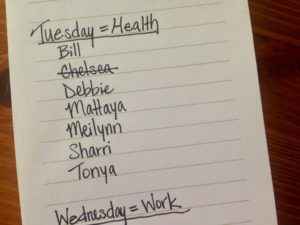 Seven letters of ink on a piece of paper that make me smile and cringe all at the same time.
She's been promoted. From Tuesday = Health to Thursday = Thanks. And there she'll stay till I'm old and gray… safe and sound in the thankful category.
"Thank you, Lord, for the privilege of having Chelsea for a friend. For her faithfulness, her honesty, and her dedication to You."
The loves in our lives will never truly be deleted. We may remove their names from insurance policies and prayer chains, but their voices and memories live on and on and on.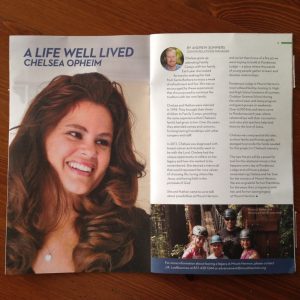 Mount Hermon's tribute to Chelsea, revealing the plan for a fire pit that will be made in her honor.
Have you ever crossed someone off a prayer list?
How have you been comforted through that process?