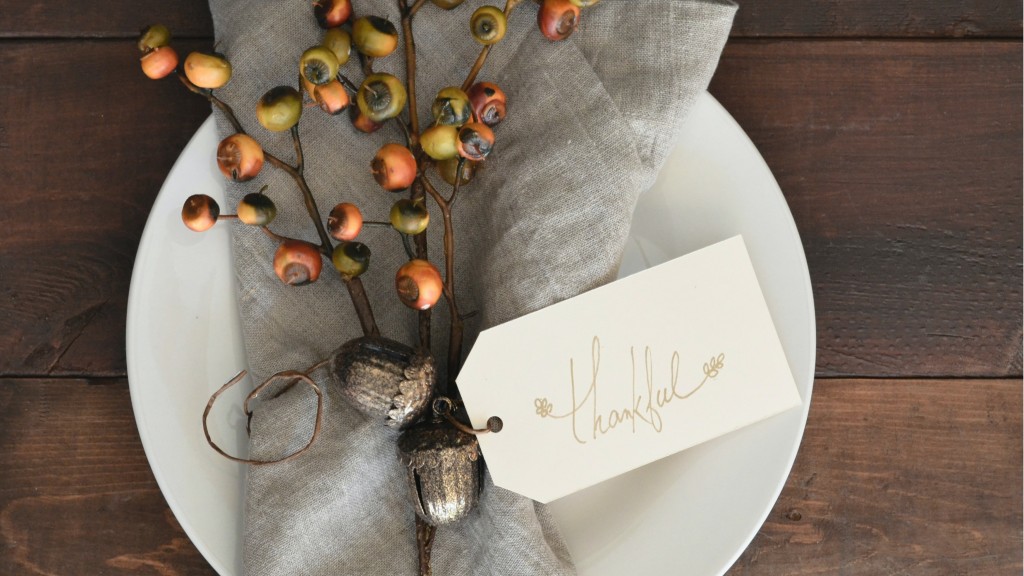 Hosting or Being Hosted: Helpful Ideas to Get Your Heart & Home Thanksgiving Ready
We interrupt our regularly scheduled program to bring you… your relatives.
Raise your hand if you're prepped and organized for Thanksgiving. It's okay… most people aren't. You've got this though. You're stronger than you think, you can juggle more than you realize, and I have some tips.
Depending on your hosting situation, I've crafted three possible scenarios. And within each of those, I'm giving you different levels of being ready. Pick and choose according to your home, drunk uncles, and level of crazy that's on its way.
1. They're Only Coming for Dinner
If you were raised in a casa where your parents regularly hosted Thanksgiving, good news! Having people over probably won't phase you. Here are some thoughts on how to level up or down according to your guests.
If They're Basic: Level down and think outside the box. That may mean ditching china for paper plates or buying a pre-made meal. If you have low-maintenance guests who won't care, give yourself a break and let the focus rest on the people around your table. Having a hard time giving yourself permission to do less? I'll do it for you: Do less!
Happy Medium: Making fewer side dishes (ditch the least favorites!) can help ease some stress. Not setting such a fancy table can also help. Beautiful paper napkins instead of washing and ironing cloth? Regular dishes instead of crystal and china? The food will taste the same and your happy medium people won't care. Last year we had gorgeous weather and we ate in the backyard (sans tablecloth) and it was perfectt.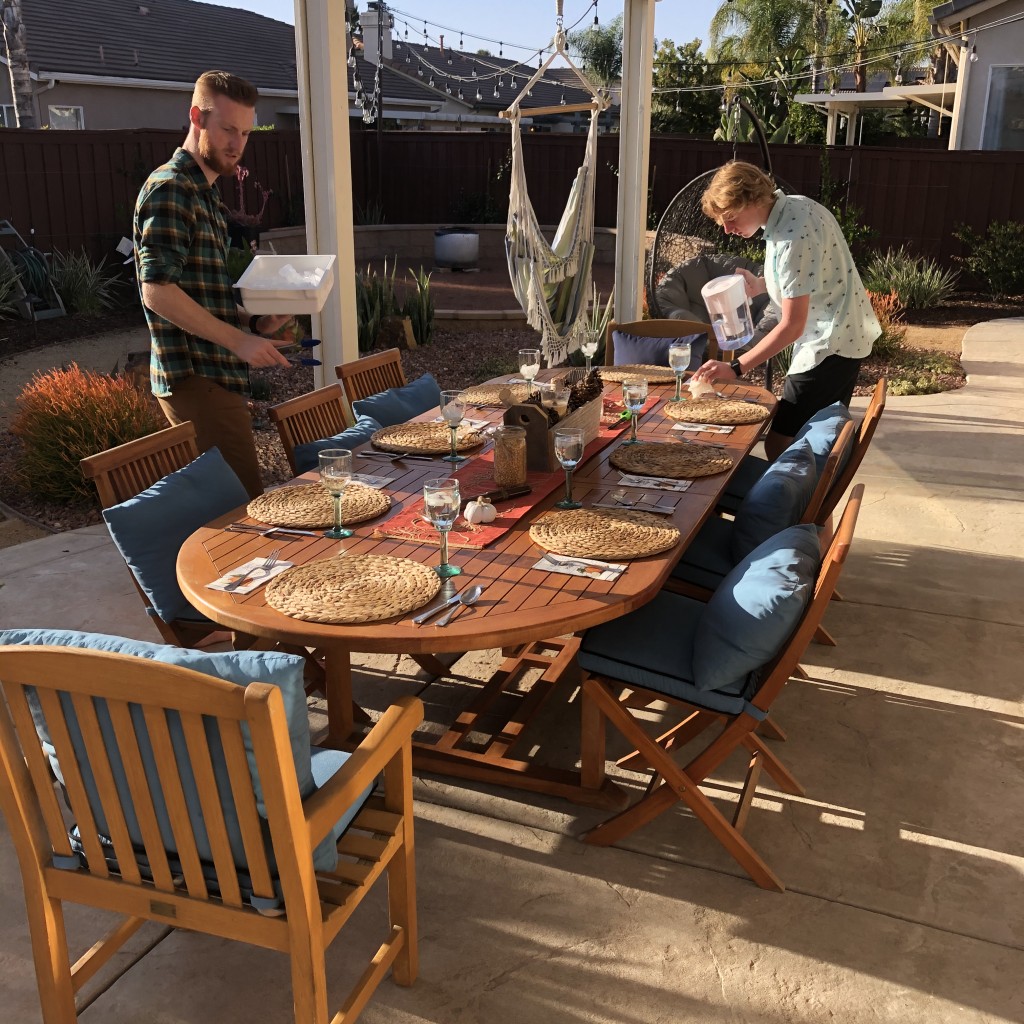 If They're Extra: Place cards take a few extra minutes but can be helpful, especially if you have a large group. It's also a great way of purposefully mixing the generations so they can get to know each other better.
Appetizers! Even a small charcuterie board can help the hangry people make it to the main meal. I made a basic one last year for eight people and we still had tons left over.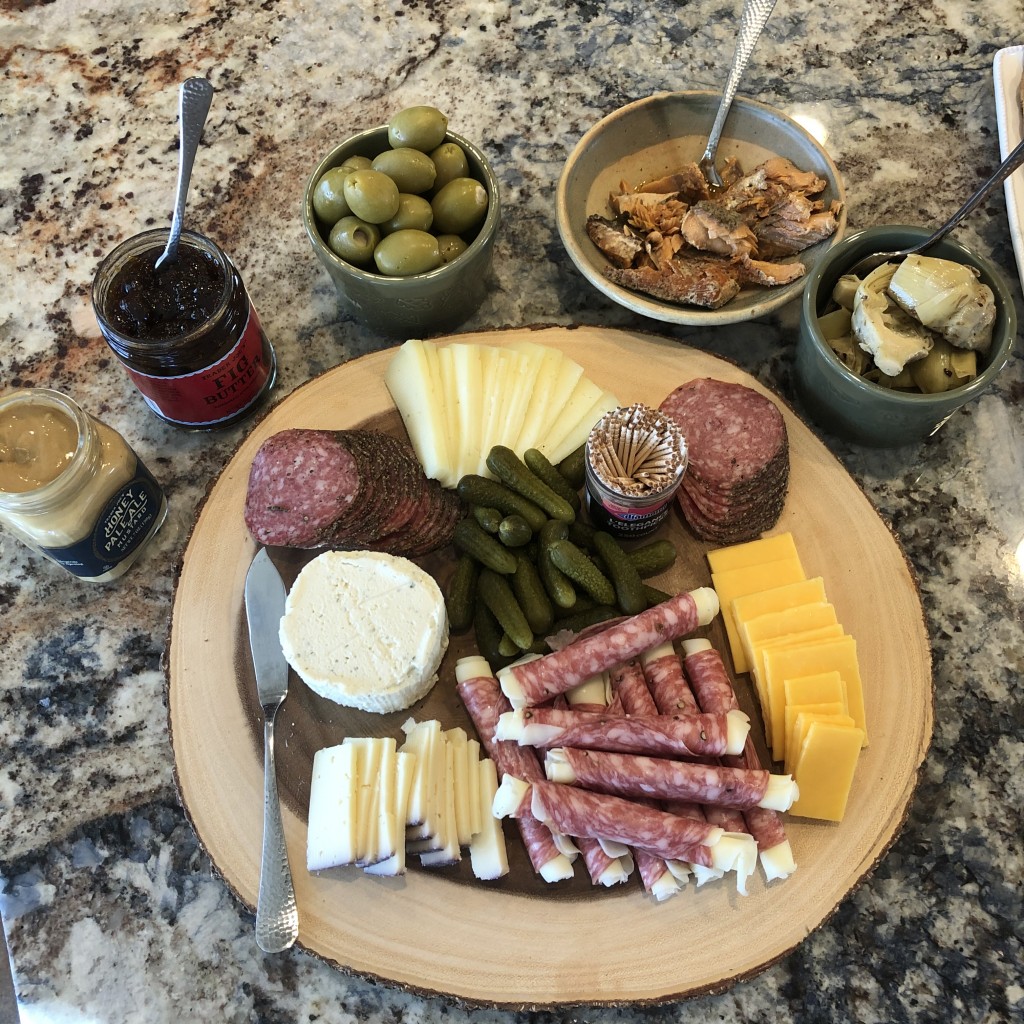 Also, don't skimp on candles. Tall tapers or short votives, candlelight changes the atmosphere from plain to wow in the flick of a spark. Place a few pinecones and fall leaves around the table and bam—you'll be ready for your Crate & Barrel photo shoot.
2. They're Staying Overnight
You're so kind to offer your friends/family a bed! Depending on the size of your home and how many people are staying over, this could be easy… or challenging. Here are some ideas to help.
If They're Basic: Clean the bathroom, make the guest bed, put kids on the floor in sleeping bags, and serve a jug of orange juice with cereal and turkey leftovers for breakfast. Done.
Happy Medium: A jar candle in the bathroom is always a nice touch; so is one in the guest room. Pumpkin muffins and scrambled eggs for breakfast are easy yet yummy.
If They're Extra: Flowers on their nightstand says "welcome." How about a gift basket of goodies like fuzzy socks, gum, and trail mix? We've been greeted with such baskets before and we felt so loved! A big brunch, turkey leftovers, and fun games will send them on their way full and happy.
3. They're Coming from Far Away and Staying for the Long Weekend with 7 Kids, 19 Food Allergies, and a Shedding Dog
Hear that? I think another jewel just got added to your crown. Whether or not you had a choice in the matter, hosting a large group with "needs" can feel daunting. My two pesos? Make a plan and then cut a few things out. They probably won't even notice… especially your basic people.
If They're Basic: A family of 11 stayed with us once and I was so grateful they were low-maintenance! Ask your guests to contribute with their own bedding. If they're not flying, they can bring their own pillows. And sleeping bags for the kids. And permanent water bottles. If they offer to contribute with groceries… for the love of all things sane, say yes.
Happy Medium: Since your leftovers will probably be gone in one meal, you'll need another plan. Also, have you asked about their food allergies? I know it feels inconvenient as the cook, but if the allergies are serious it's important to not accidentally kill anyone with your "secret ingredients."
Having everyone make their own pizzas is a win in multiple directions. It keeps the kids busy, fosters creativity, and takes the cooking pressure off of you.
I'd also highly recommend different kinds of food bars. Not granola bars—easy buffet lines. Put out all the options and let people build their own creations.
Brekkie Bar: Oatmeal, cereal, or waffle
Nooning Bar: Salad, grilled cheese or nacho
Din-Din Bar: Taco/burrito, hot dog, mashed/baked potato
No matter the meal, Google "creative toppings" for some fun new ideas.
If They're Extra: Leftovers can be used in some crazy cool ways, but make sure you have gluten-free, dairy-free options for those who are truly ill… or just truly high-maintenance. Understanding the difference between vegetarian, organic, paleo, and vegan will not only impress your guests, it will make cooking easier. Unless you're a hard-core carnivore. Then it won't be easier.
You, The Guest
Now for the easy part. If you simply get to slide your booty into a car and drive to a clean casa with a Thanksgiving dinner all done for you, enjoy it! However… from toilets and floors to grocery shopping and cooking, your host has probably logged a significant number of prep hours.
Bottom line: don't show up empty-handed. Here are a couple tips to help you be a grateful and welcomed guest.
If Your Host is Basic: Arriving with a bouquet of flowers is typical but much better than nothing. A bottle of wine, Martinelli's, or a small candle also works as a nice hostess gift.
Happy Medium: Do they have a green thumb? A plant is nice for two reasons: Uno, they don't need to stop their meal prep to find a vase and cut fresh flowers. And B, it lasts way longer than cut flowers. Not sure what kind to get? Poinsettias are always a fun idea for the impending holiday.
P.S. It would also be fantastic if you offered to bring an appetizer. Or a pie. Or two pies.
If They're Extra: Pitching in with part of the meal is key. Even if your host acts like they've got it all together, Thanksgiving is a ton of work. Offering to bring side dishes, or cook together, can be a huge blessing to the one in charge.
Since some of y'all didn't gather last year, I hope this year feels extra special. Yes, even if you have to lower your expectations a notch—or three.
I'm rooting for you this week. You can do this! Yes, you can. Or as we say in Español, Si, se puede!
Feliz Dia de Gracias, amigos. May your table be full of beautiful conversation and may your heart be full of gratitude… even if the turkey burns.
So… are you hosting or being hosted? Tell me in the comments; I respond to every single one.