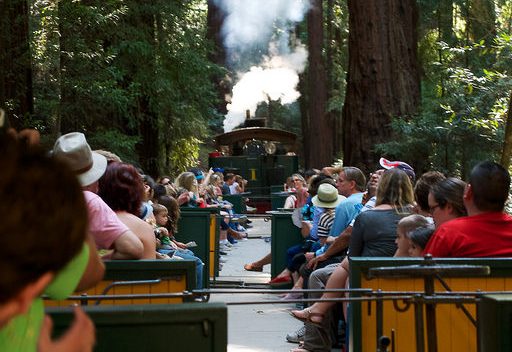 How to Grow Up at a Christian Camp and Not Turn Out Weird
If you've ever experienced ropes courses, zip lines, campfires, s'mores, row boats and field games, you've probably been to summer camp.
Throw in massive redwood trees, homemade donuts, train day and a pancake breakfast, and you've probably been to Mount Hermon.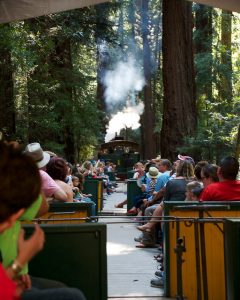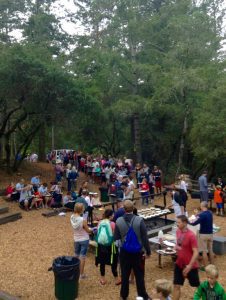 Located in the heart of the Northern California redwood forest and only seven miles from the beach, this camp I call home draws tens of thousands of campers annually.
But I never arrived as a camper; I lived there. As in, twelve months of squirrels, trees and community. As in, everybody knows your name and you can't get away with squat. As in, summer camp for ten weeks. Yearly.
Every June the 440-acre camp switched from mellow weekend groups to full-throttle, week-long youth and family camps filled with hundreds of eager-beaver city folk and their kids.
We locals ran with the latter from morning till night and inevitably got the same questions every week:
So what's it like to live here?
Do you live in a cabin?
Do you have a TV?
Where do you go to school?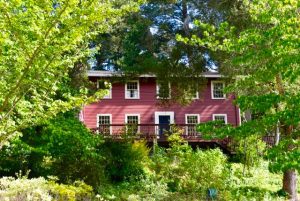 "Uh… it's cool, I live in a real house, with a real TV, and our school is a mile and a half that way."
Asking me what it was like to live there was always the most confusing question. I never experienced a different life so I didn't know how to answer. Being a camp kid felt… normal.
And now our kids get the same question over and over: "So what's it like to live in Mexico?"
Living elsewhere for a couple decades gave me great hindsight about my unusual upbringing. Contrary to some people's opinions, it is possible to grow up at a Christian camp and not turn out too weird.
Here's what worked for me:
Step 1: Go To Public School
When surrounded by only Christians it's easy to get caught up in that safe, comfortable, fun, sequestered world and want to stay there.
One of the best decisions my parents made? They sent us to public school.
My elementary years kicked off the '80s and the atmosphere felt like an extension of my home and neighborhood: a few Christian teachers, great morals, strict rules, clearly marked restrooms and a whole boatload of innocence.
Then came jr. high where I heard foul jokes, got pantsed, and learned all the potty words. By the time I hit my sophomore year I had been offered alcohol, pot, and a good time with a not-so-good guy.
I also got asked if my camp was a cult. Twice.
I don't think being exposed to all that directly benefitted my life in any way. However, if my parents had chosen to homeschool me or send me to a Christian school while living at a Christian camp, I'm guessing my bubble might have popped due to severe naivety.
Step 2: Have More Than One TV Channel
What do Family Ties, Silver Spoons, Punky Brewster, The Cosby Show, and The Facts of Life have in common? They were all on NBC. And thank goodness, because I had at least a few things to chime in on when jr. high water cooler talk came around.
Our family felt perfectly content with one channel for years. But like any normal teenager, I got restless. The bunny ears called my name so I answered by getting up, walking across the room and messing with them till they pointed in awkward enough directions to pull in another channel. Sort of.
The fuzzy screen seemed hopeless, but one day I dialed in ABC. Had it been there all along? What had I been waiting for? And what could we possibly find inside that whole new world? Growing Pains and Kirk Cameron, that's what.
Step 3: Climb Out of the Tree and Make Eye Contact
We locals used to make fun of campers who yelled, "Look! A squirrel!" In our world they were as prolific as gophers and not exciting. I didn't walk around looking up at the beauty of the trees either—I took them for granted and only saw them as climbing challenges.
And the people who inhaled deeply while mentioning the clean air and abundant nature? We rolled our eyes and assumed they were from L.A.
But being rude or disrespectful was prohibited, so from an early age I stood next to my parents and said, "Nice to meet you" about a thousand times per summer.
Then I ran back to the trees.
Step 4: Vacation Somewhere Else
"Since you live at a vacation destination, where do you guys go to get away?"
The first time I heard someone ask my dad this I realized it hadn't ever occurred to me we lived in a popular getaway spot. It was just home.
Every summer we drove to Washington state to visit extended family for two weeks, and always left with rad memories. But I loved going back to camp.
Getting out of your geographical bubble can prove beneficial to your sanity, worldview, and overall well-being. Some of us who lived at Mount Hermon were perfectly content to curl up and stay forever—and there's nothing wrong with that. Unless you become a foster parent to banana slugs and start mumbling about poison oak and the future of the June beetle.
Then it might be time to head to the city for a stint.
Step 5: Get a Job Somewhere Else
After working at Mount Hermon in six departments and volunteering in three, I had countless shenanigan stories and a pretty decent resumé. But between the ages of 12 and 19, I only recall filling out one application and having one interview.
Stepping into the public workforce felt a tad intimidating, but I knew I needed to eventually branch out. Longs Drugs it was.
For the first time ever I worked with non-Christians who smoked, cussed, complained, and couldn't wait to clock out. No matter—I landed a grown-up job outside my comfort zone where I made more money, got discounts on razors, and nobody knew my name.
Thinking it had the potential to be just as fun as camp work, mistake number one came in my first week when I asked if it was okay to clock in early to get some extra work done. A fellow employee gave me the "nerd alert" look and said, "I guess, but pretty soon you won't want to."
She was right.
Step 6: Move Away
I'm a firm believer in "leave and cleave," so after my husband and I got married in Mount Hermon's Auditorium we moved to Southern California. Desert weather, puny trees and no friends had me a little homesick and a lot treesick.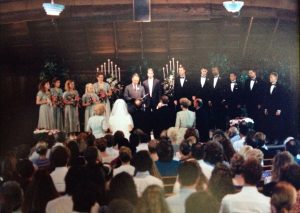 I never anticipated how a different zip code would change my perspective about my upbringing. I finally realized in my 20s that life had not been normal, and that was a very good thing.
Step 7: Then Go Back
If your parents still live in your childhood house, you know that fantastic feeling of returning to your ever-familiar address. The comforting smells, old wallpaper, squeaky beds, cozy fireplace, creepy basement—home.
The first time my husband and I went back to visit my parents at Mount Hermon, an overwhelming feeling of, "What are we doing in Southern California suburbia?" came over me. Ironically we stayed south for twelve years before moving even farther south to Baja.
But we make returning a priority. When we became Mexican residents, our drive to family camp went from eight hours to twelve-ish, depending on the border crossing.
That's not nearly enough to keep us home though. So every July we pack up, point north and get giddy.
Why We Go To Camp
Eight years ago our kids went to Disneyland and had a blast. But they surprised us when they agreed, "If we had to pick, we'd rather go to Mount Hermon."
Goofy and Donald look great, but they don't talk, encourage you or invest in your life. When your counselors are named Otter, Lunchbox, Banjo, Swagger, Flash and Bro, it's pretty safe to assume you're going to have a heck-a fun week.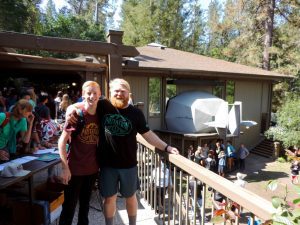 We go because we love the Christian camp atmosphere.
We go because we get to ride a colossal train to the beach and eat Marianne's ice cream.
We go because Grandpa and Grandma still live there.
Every year I catch myself looking up at the trees and marveling at their beauty. The creativity our God put into their details blows the lid off how I remember them. They were there all along, but like the magnets on my fridge, they blended into part of my normal and I didn't truly see them.
We go to camp because it's a rush. We go to Mount Hermon because it's home. And because I met my husband there. And because we worked on staff together, had our first kiss and got married there.
Once again we're on our way. The packing started, the emotions are rising, and the anticipation grows stronger as we relive every memory. But this year the excitement is through the roof because some of our closest friends will be joining us for the first time.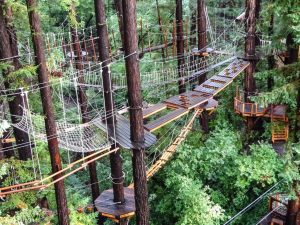 Watching newbies experience all the firsts of family camp brings unexplainable joy. We can't wait to take them on the ropes courses, pick blackberries in the creek, share a mudslide, make them kiss a banana slug, zip down the zip lines, and break bread together in the form of fresh maple bacon donuts.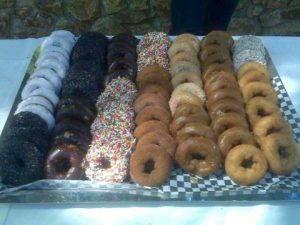 And I won't even roll my eyes when all of our kids say, "Look! A squirrel!"
Warn the wildlife… we're coming to camp!
"I didn't need to understand the hypostatic unity of the Trinity;
I just needed to turn my life over to whoever came up with redwood trees."
~ Anne Lamott, Plan B: Further Thoughts on Faith