Last Christmas in Baja? Wrestling with the Unknown and Another Big Move
The C9 bulbs sit snug and proud, wrapped around the palm. It's fat, freshly trimmed, and still full of green. Through the fall and into winter, palms don't change.
"It looks like a pineapple," my husband says. "A glowing one."
He's right; our own tropical Christmas. But whose kids are those?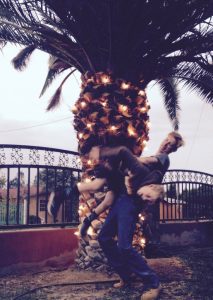 The holiday is celebrated here, yes, but you have to drive to the cities to see red and green explosions alongside gifts in excess. A peek into our low-income town will show you single strands of dim lights, old-school decor and a few lawn ornaments you might consider tacky.
Big deal.
We who possess bright white lights, whimsical stockings, red candles and mini advent books are no better than those who work on the 24th to put food on the table on the 25th. No matter your color or country of origin, once a year most of us gather with family, ingest too much and try our darnedest to focus on the Reason instead of the season.
I hang a sign about Jesus, try to remember to light a few advent candles and don't elevate the plump guy with the killer whiskers. He's not on our mantle, door or lawn. I don't care if he's on yours though; I'm blessed with enough contradictions in my own mind.
Like claiming health and eating puppy chow mix,
…breaking up with dairy and then whipping my own whip,
…judging your soda and then ordering a mocha,
…feeling sorry for the neighbors but not doing anything about it,
…striving for calm and then spinning through tasks,
…declaring contentment while feeling jealous of your five Christmas parties,
…preaching joy and hollering at kids whose volume seems a tad too jolly. Horrors.
I'm a walking ball of Christmas chaos.
Last week I mentally planned out how I might ask a few family members to join me in a "no sugar" quest in January. I felt ready, motivated, and proud that I've done it before. A few days later I baked cookies for bible study and after sampling large portions of the dough (thrice) I ended up eating four hot ones. For breakfast.
What the holly? Why aren't the signals between my stomach and brain connecting? Don't run out the door with a sweet snack, Carrie—sit down and eat an egg! Two eggs! Something with a fork! Do I need an intervention? Am I in denial? How am I supposed to stop eating sugar when I can't even get through a workout without thinking about the next meal and possible dessert?
Slow down, white girl. Forget about food for a minute. Take in your surroundings. This might be your last Christmas down here–don't you want to absorb the ambiance? Soak in the joy? Relish the mood?
Of course. But the calendar calls, and so do my kids. More cookies, donations, the neighbors, two blog posts! Big stockings, more lightbulbs, and glasses for high toasts!
So much to do, and see and remember. My head spins a little when I fall into bed, knowing this last week before Christmas inevitably proves the craziest of all. As my mother always said in the midst of packing chaos, "It'll be fun when we get there!"
A tad annoying when I only had 14 years under my belt, but so true.
So I decelerate, step back, stare at our twinklies and realize this is probably the last Baja Christmas as we know it. Unless God flips us toward something unforeseen in the next six months, we won't be here next year.
Our last Christmas season in a chilly cinderblock house?
Our last Navidad seeing Gringos in the park passing out shoe boxes?
Our last December with a fat, glowing pineapple?
Our last winter in a Baja town of 1,500?
Our last holiday with the neighbor's massive tree trunk wrapped in tinfoil?
Our last cold season of watching tourists get off the cruise ships in shorts?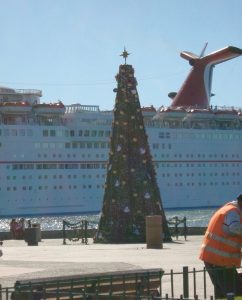 Next week's Christmas plans include camping in the heart of a U.S. city. Sounds strangely unconventional to this woman from the woods whose Christmas mornings always consisted of huge trees, freezing temps and occasional snow. Christmas camping with a high of 70˚? We're not in Seattle anymore, Toto.
But hey—if I don't need to clean house, wash china or vacuum pie crust out of the carpet… I'm in.
On my husband's side of the family seven grandsons range in age from eighteen to eight. No pink. No glitter. No girls. These dudes love and laugh, argue and whine. But at the end of the day they're all Vom Steegs, so if you mess with one white boy you get seven.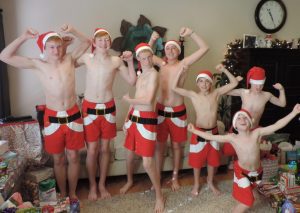 Last year we went camping together for Thanksgiving. Board games on the decks, pancakes in the rain, whip cream shenanigans, days without showers and miles of biking sent us all to the front office, ready to lay down our credit cards for a "book before you leave" discount.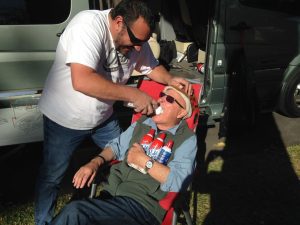 Do they have one of those down here in Porvenir? Can our family get a discount on a place to come back and visit if we reserve before we leave? We thought we'd live here for-almost-ever; now we're having conversations about who in the world will buy our house. And how in tarnation we're going to afford something in Southern California that doesn't include termites or mold and possibly boasts more than 750 square feet.
The thought of liquidating all the inventory in our store, donating possessions I never should have kept, selling our furniture and house and packing up makes my brain cramp a bit. God's plan already exists, I know. His surprises never cease to surprise us, so I sit confidently with hope for our unknown future, trying to obey my favorite dish towel.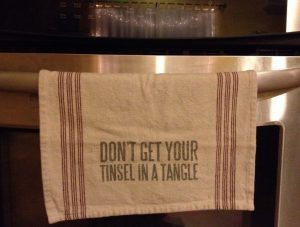 It's not my job to figure it all out. It's my job to pray, stay faithful and move forward when prompted. We're whittling down our options and the picture's looking a tad less blurry. Compared to God's crystal-clear view though… we're still clueless.
My fingers pause when I can't think of what to write next and suddenly the faithful clock above my desk becomes audible.
Tick. Tick. Tick.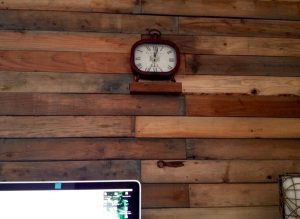 I wonder how many of those ticks will go by between now and next year at this time. Will we be settled in a house? An apartment? A mobile? A 5th-wheel? Will I have found my decorations by now? Our Christmas party count sits at zero this year; will our new location boost us to one or two?
Countless locals move through this season the same as all the others: work hard, buy food, pay bills, repeat. Christmas doesn't equal anything magical or memorable. No snowboard pictures, no opening gifts they don't need, no extra shots of espresso just to make it through the crazy.
Local Christ followers at least possess the hope that surrounds Jesus' birth, but the morning of the 25th does not include hours of unwrapping.
I miss the simplicity already.
Are you on the brink of a big change? Do you know where you'll be next year? Join us as we pray and wait, pray and wait, pray and wait… without getting our tinsel in a tangle.
Reporting live from the front lines of the mud, I'm stickin' a bow on 2016. Feliz Navidad and Prospero Año!