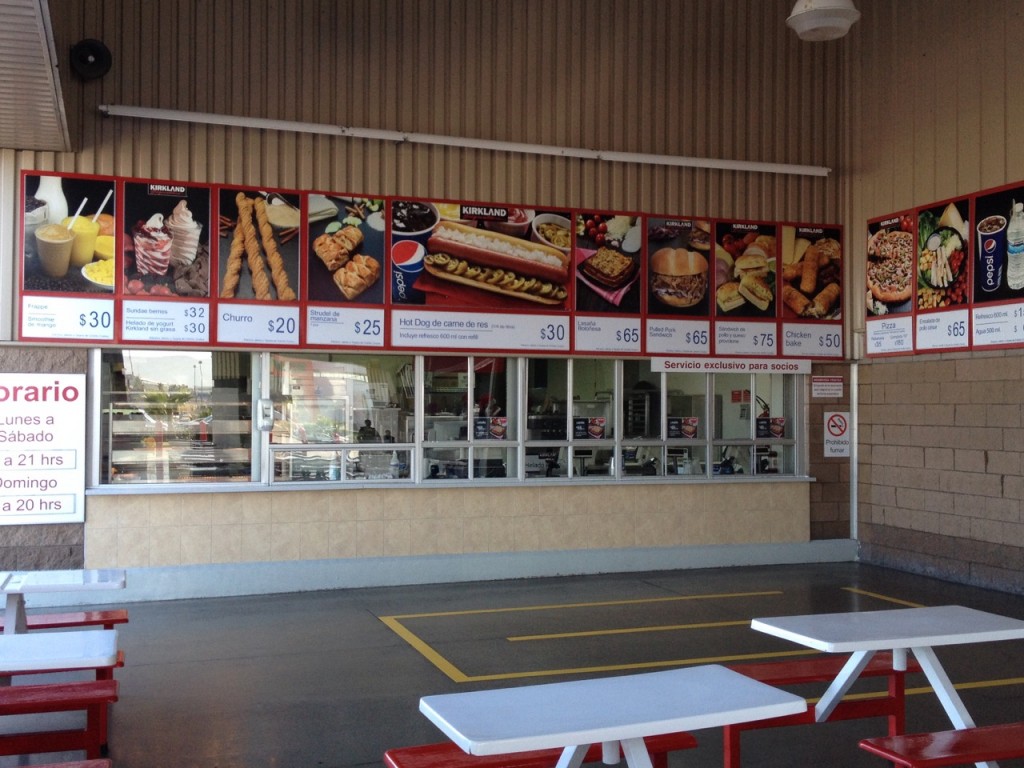 10 Cool Costco Insider Secrets to Save You and Your Family Money This Week (And They Work in Baja, Too!)
If you're a lover of the food court, impressed by ridiculously clean, smooth floors, and slightly addicted to samples, welcome to the Costco club.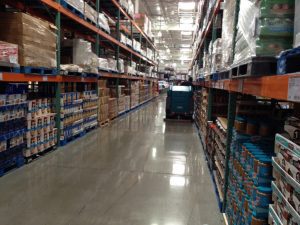 It's pretty much the only place where your shopping cart can contain a $45,000 diamond ring resting on top of 1,875 Q-Tips and a five-gallon jug of nasty cooking oil. Just Baja?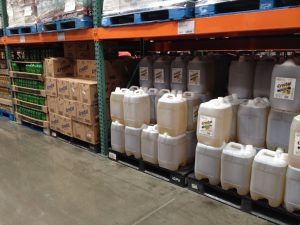 It's also the only place I'd like to be stuck/trapped/held captive in the event of a Christmas lockdown. Think about it… grab a mattress, some sheets, a down comforter, drag it all to the middle aisle, bust open a pillow two-pack, choose some cozy jammies, slippers and a good book, plug in a heater and wait for the sample servers to roll their carts around with hors d'oeuvres at five.
Rotisserie chicken, bagged salad and artisan bread for dinner? I'll grab the paper plates, napkins and silverware. Switch off the overheads and plug in the Christmas twinklies while we decide between cookies, brownies or pumpkin pie for dessert.
All three? I knew I liked you.
Before we get carried away to the electronics department for our all-night slumber party, let's get to the Costco secrets.
Disclaimer: 
I am not an affiliate.
I am not an employee of Costco.
None of my family members are employees of Costco.
I do not own Costco stock.
I am not a secret shopper with the ability to write Costco up for not carrying Mango Salsa anymore.
I have never spent the night in Costco, though I am not opposed to the idea.
I have only put one suggestion in the suggestion box. (Why is cornbread seasonal?)
I do not follow Costco on Twitter.
I am not member FDIC, mostly because I do not know what that means.
I learned how to renew our membership down here for cheaper than yours. I'm not being braggadocios, I'm just celebrating saved pesos.
1. Opening Times
Most Costcos in the States open at 10:00 a.m., but if you live in or are visiting Mexico… 9:00 a.m., baby!
Last month I arrived early to our Ensenada store to turn in my picture order as fast as possible before an appointment. Overzealous locals sat at the entrance while I grabbed my book and stayed in the car, thinking I had 15 minutes to wait.
When what to my wondering eyes did appear, but a dude with a key and a smile just for me. In I went at 8:45, feeling like I had been given an extra chunk of time in my day. This happens in Temecula, CA, too!
Lesson learned: arrive early and beat the crowds… if the employees are on their game they often open the doors before the scheduled time.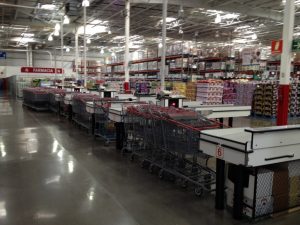 Just another typical morning at Costco's Ensenada location. Only two registers necessary.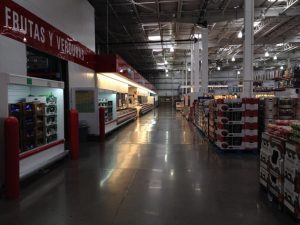 A strong desire to run like the wind and ride my cart to the muffins came over me. I resisted.
2. Turnover Happens on Saturday Nights
Ever wonder why the display of rad energy-saving lightbulbs moved from the front to the middle and then to the right? Marketing. Costco moves things around to make you take a different route and possibly see new products.
A friend who used to work there said they stock new inventory on Saturday during the night shift. So if you want to see the latest and greatest, especially in the way of Kola Loka and Cacahuates, shop Sunday morning.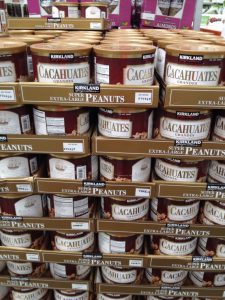 One of my favorite Spanish words ever: "Ca-ca-wah-teys." Kind of awesome, no?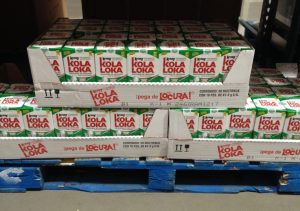 And here's my other: "Kola Loka"
It gets better. The subtitle, "Pega de Locura," literally translates to "Pastes of Madness," or "Sticks like Crazy!"
3. Some Prices Will Never Change
Behold, the all-American hot dog and soda combo, alive and well in Baja, too. Same price since the day Costco opened in 1983… just a mere $1.50. That base price doesn't change, but when the peso isn't doing too well (like now) it makes the enticing dog jump from 23 pesos to 30. No bueno.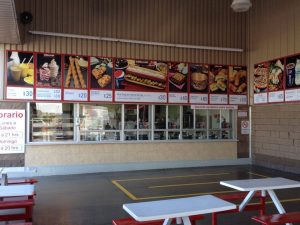 How our Baja menu is better different: lasagne, Hawaiian pizza, jalapeños and mango smoothies!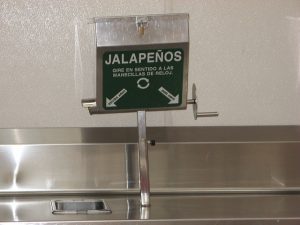 Friendly reminder: just because something is super cheap and makes your mouth dance doesn't mean it's healthy for your insides.
Did I just ruin it?
Sorry—I ruined it.
4. Costco Membership = Discounts on Vacations, Cars & Coffins
Not much to explain here. If you plan on going on vacation, buying a car, or kicking the can anytime soon, shop costco.com first. There's nothing lighthearted about shopping for a casket, but fortunately the top left corner promises a non-emotional experience.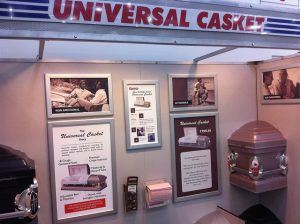 5. For the Real Bargains, Shop the Perimeter and Middle
According to LifeHacker, the middle area of the store is referred to as "action alley" because of the high traffic. "Makers and distributors often pay for the privilege of being there, and the prices are aggressive," the site says. The flashy displays at the end of aisles, where lucrative samples are given, tend to be the worst bargains in Costco.
I like lucrative samples.
6. Cheapest Prescription Drugs
A recent Consumer Reports survey found that, when it comes to generic prescription drugs, Costco's Prescription Program is the most affordable on the market. Save money on your prescriptions by picking them up with your groceries, but please don't swallow drugs and drive.
Extra Bonus: Did you know Costco membership is not required for Costco Pharmacy purchases online or in the warehouses? Annnd… they offer home delivery. Ding-dong!
7. Price Protection
Besides having an amazing return policy, Costco also offers a 30-day price adjustment guarantee. If an item gets marked down within 30 days of when you bought it, take your receipt to customer service and get the difference reimbursed. Badda-bing, badda-boom.
Feeling buyers remorse over those "super gigante" pink marshmallows, the nativity scene with only one colored dude or the apple cinnamon disinfectant? For the love of Christmas, take it back.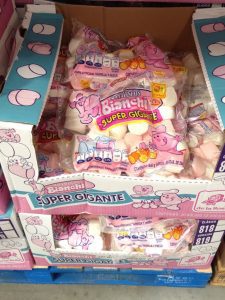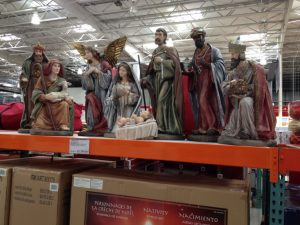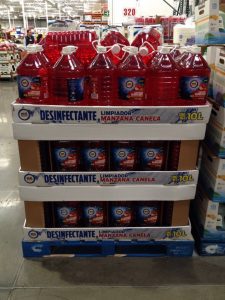 8. Ninety-Seven-Cent Tags are Your Friends
Most regular-priced items end in .99¢, and sometimes .49¢, .79¢, and .89¢. But the real bargains end in .97¢. They're the items that have been marked down and are the lowest sales you'll find. They're throughout the whole store, even on food items. Score, score, score some more.
9. Asterisks Mean "Bye Bye"
If you see this symbol (✽) in the top right corner of the price tag then you know the item will not be restocked. What you see is all they have, and it won't be returning, so if it's something you really need, stock up. Exception: popular seasonal merchandise might be returning, but not for a year.
Definitely stock up on the enchilada almonds and 64-ounce vats of mayo though; those go quick around New Year's.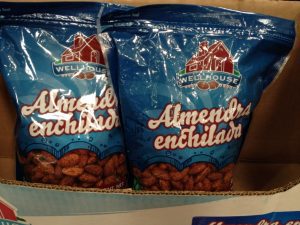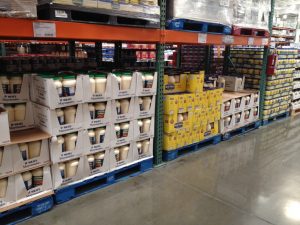 10. Think Outside the (Costco) Box
The clear plastic containers that hold a 12-pack or 14-pack of apples make perfect storage packs for Christmas ornaments.
Fa-la-la-la-la!
What's your favorite bargain at Costco?
Besides maybe pita and hummus, what do you think Jesus would buy at Costco?