Family Dinner Questions w/a Side of Candlelight: Getting Your Kids and Teens to Talk
"So…? How was your day?"
"Good."
"Anything fun or different?"
"Nope."
If this riveting dialogue plagues your family too, take heart and read on.
Spreading a sheet or blanket in the family room and turning dinner into a picnic sounds so quaint, doesn't it?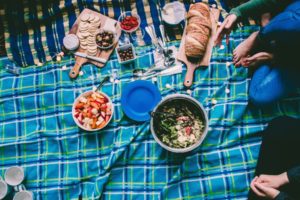 Photo by not brittany shh pls on Unsplash
Mostly, yes. But if your brain skips over the cute family bonding part and goes straight to what could happen to your carpet, clothes, knees and back, it's okay to stay at the table.
Better yet, take your meal outside and enjoy the weather while you can.
Even though the floor or patio can help breed new fun, the location doesn't matter as much as the dinner conversation.
After three weeks away from home and unstructured summer schedules, I am missing our family dinner times. I've missed sitting in a circle, holding hands while thanking God for another meal, and connecting—just us.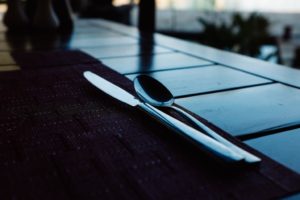 Photo by Kevin Hou on Unsplash
Even though we make family dinners a priority, please don't assume they flow as beautifully as the Mississippi. We still deal with normal annoyances too…
Hangry people (hungry + angry)
Dry chicken

Smacking lips
Questionable attitudes
Rolled eyes because of excessive sweet potato chunks in the taco lasagne
And sometimes the kids have issues too…
Tardy teens
Talking with their mouths full
Little desire to pray (don't judge)
Technology drama
Drowning my creations in ketchup
Horrors.
Break It Down Now
Maybe it's time to put the past where it belongs and try asking some new questions around your dinner table. No kids at home? Try these with a niece, nephew, grandchild, cousin, friend, spouse, etc.
For Parents to Ask Kids & Teens:
What's your favorite food in the summer?
Who's the funniest person you know?
What's your favorite thing to do outside?
Would you rather have Christmas or your birthday twice in one year?
What's your favorite way to help people?
If you were the principal of your school, what would you change?
What would your perfect Saturday look like?
If you could fly to the moon, which animal would you want to take with you?
Name three things you could do for someone who's sick.
What's one thing your teacher does well?
What are two things you want in a friend?
If you could only study one subject for a year, which one would you choose?
Would you rather… draw or write? Plane or train? Beach or mountains?
What's one piece of technology you hope we will have by 2025?
If you could change one thing about our neighborhood, how would you make it better?
If you could fly somewhere free for one day, where would you go?
What's something people do to cheer you up when you're feeling down?
For Kids to Ask Parents:
What's the best gift you've ever received?
Who was your favorite teacher and why?
What would you do with three million dollars?
What was your first job and how much did you make?
How did you get to school every day?
What was your favorite food when you were a kid?
Set the Tone, Calm the Mood
If candlelight in your house only means company's coming over, take heart. Here are 3½ reasons why you might want to include some flicker fun at dinner time.
1. Candles immediately change the ambiance.
Even at the end of a hot day, I love the look and calmness of candlelight. Dinner tip: only put unscented candles on your table so the meal scents don't collide and offend your olfactory organs.
2. Candles make visitors/friends/family feel special.
If you grew up in a home where candles got dusted instead of lit, it's okay to change that tradition. Grab your matches/lighter and light it up to instantly make your home inviting and cozy.
3. You're worth it.
Yes, you are. I've always struggled with thoughts of not wanting to burn candles because they go away. I've also struggled with spending money on things that aren't essentials. (Especially as a missionary.) But once people find out you love candles, you might become the recipient of a few. Light 'em!
3½. One word: Storage.
Are old candles taking up valuable real estate in your cupboards/drawers? If you're like most of us, you're probably "saving them for a special occasion." Stop that. Maybe someone in your family needs the calming effect of candlelight at dinner this week.
Maybe it's you.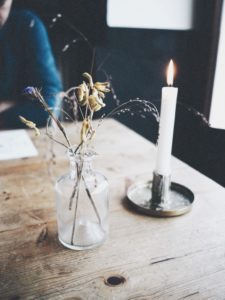 Photo by elizabeth lies on Unsplash
Burning Tips
Start Small: A wick is a wick. One tiny tealight produces the same amount of light as a 2" votive and a tall jar candle, so don't feel like you have to invest in something gigantic.
Branch Out: When it comes to good quality candles, you definitely get what you pay for. I sold PartyLite for years and learned how staying away from wax and pursuing scented oil and soy is a million times better.
Kick Down: Think you can't afford the good stuff? Check this out: I spent about $10 on a poor-quality candle, it smoked and burned down the middle, I constantly dug out the wick, and I threw it out when it was halfway gone.
Then I spent about $20 on a high-quality candle, it burned all the way to the edges, down to the bottom evenly, and lasted twice or thrice as long.
Might be a wash in your mind, but my second experience included peace and enjoyment instead of frustration and steak knives. Shazam.
Dinner Dare
Whether it's been years since you've had family dinners or it's recently been the unstructured schedule of summer, now is a perfect time to get back around a table.
Light a candle.
Connect with your humans.
Ask a question.
Share a story.
Make a memory.
I dare ya.
Acts 2:46
"In their houses they ate their food together. Their hearts were happy." NLV
"They broke bread in their homes and ate together with glad and sincere hearts." NIV
"… and in their homes they broke bread. They partook of their food with gladness and simplicity and generous hearts." AMPC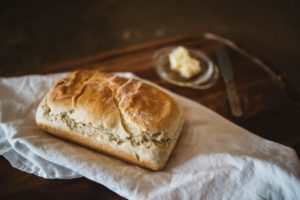 Photo by Brooke Cagle on Unsplash
Relax… I'm sure it's gluten-free.
Did you grow up with dinner around a table, or on TV trays with Peter Jennings?
What does your dinner time look like now?