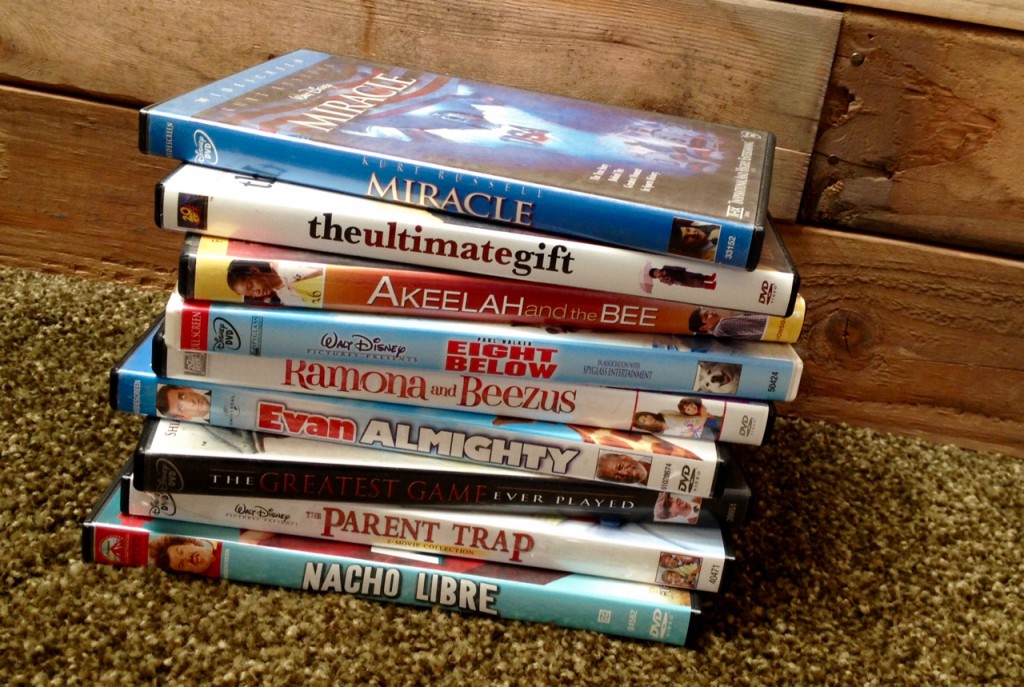 15 Favorite Family-Friendly Flicks to Watch at Home With the Kids This Weekend
There are tons of great animated movies that we adults can love right alongside the littles, but this is a list of our family's favorite real-life flicks when our kids were in elementary and middle school. Depending on your strict meter, most of these are for ages 8/10 and up, and they're all rated G or PG.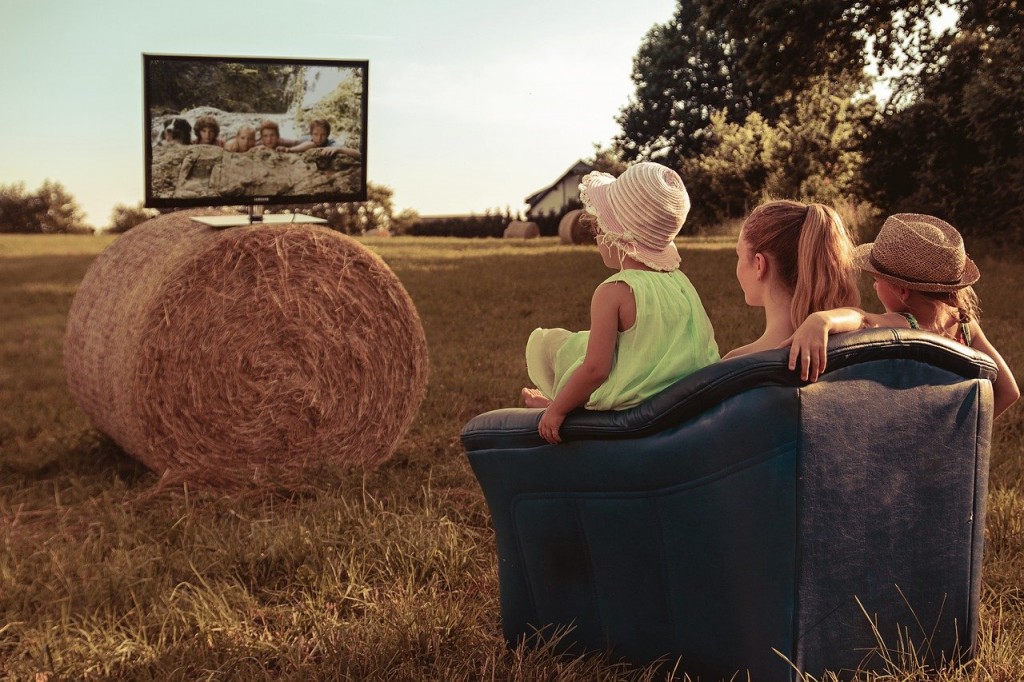 Even when I got a movie recommendation from a friend, I still jumped on a review site to double-check how appropriate it was for our kids. My favorite is pluggedin.com from Focus on the Family, but crosswalk.com, movieguide.org and kids-in-mind.com are also great.
In alphabetical order, so no one gets their feelings hurt…
Akeelah & The Bee – If you missed this one when it came out, it'll be worth your time to go find it. Full of work ethic and positive messages, The National Spelling Bee just got fun.
Dolphin Tale (1 & 2) – I always wanted to be a dolphin trainer. By the end of these flicks it looked like our kids were thinking the same thing. Squeaky clean and endearing, part two left us wanting a third.
Eight Below – An engaging, emotional story about sled dogs, hope, friendship and, most of all, never giving up—no matter how cold it gets.
Evan Almighty – With Steve Carell as a quirky Noah, and Morgan Freeman playing God, this hilarious story almost makes me want to start a farm. And go back to wood shop. And bake unleavened bread.
The Greatest Game Ever Played – I played golf once. Not a fan. But I am a fan of this movie set in the early 1900s. It's an encouraging story of dreaming, perseverance, honor, friendship and sportsmanship. Our oldest has seen this about nine times and still loves it.
Hugo – I'm pretty sure my kids wanted to live in a clock when this was over. Incredible camera angles, intriguing early robotics, and an inspirational story of forgotten talent.
McFarland, USA – This cross-cultural cross-country drama about a beleaguered teacher inspiring young kids beyond their own expectations is perfect for middle and upperclass tweens and teens who need a little kick in the pants. Since moving to Baja, our family has never related to a movie as much as this one. When the über white family moved into the über Mexican town, our empathy went through the roof. And we cheered for the inexperienced runners who were also learning the rewards of hard work, community, and intercultural acceptance. I give it a ten, and I'd watch it again.
Miracle – I don't even like hockey, but I loved this movie. The athlete in me had a hard time accepting the fact that I never made it to my Olympic dream from the 6th grade, but the teamwork in this movie is beyond inspirational.
Nacho Libre – I didn't really get it at first either, but that became the beauty of this random flick set in Oaxaca, Mexico. It got even funnier after living south of the border. (Word to the wise: don't call anyone "Chancho.")
Parent Trap – The original with Hayley Mills made me think twins were fascinating. Switching places and tricking adults? Classic. The whole thing is about girls, but our boys still loved the feistiness that goes along with practical jokes and trying to glue a broken family back together.
Radio – Set in 1976 and inspired by a true football story, Radio preaches compassion, challenges viewers to rethink their priorities, and testifies to the value of every human life. Patience. Kindness. Compassion. Justice. Plus, Cuba Gooding Jr. knocks it out of the park. Too much profanity for the littles, but a great message for tweens and teens.
Ramona & Beezus – If you ever read Beverly Cleary's Ramona books, you'll know why I might have gotten a little too excited about the toothpaste in the sink scene.
Rudy – The first movie to be shot on the Notre Dame campus, Rudy was named one of the best 25 sports movies for the previous 25 years in two polls by ESPN. Even if you're not a big football fan, this film will have you cheering for the underdog and liking Sean Astin all over again. (Did anyone remember that Vince Vaughn was in this? Not I!)
That Thing You Do! – "Written and directed by Tom Hanks (who also has a supporting role), That Thing You Do! recaptures the innocence and optimism of 1964 in a fun cautionary tale about the fleeting nature of fame." ~Plugged In Besides the fact that this throwback is a jackpot for visual style, we couldn't get the theme song out of our heads for days. But is singing and dancing around the kitchen with your kids ever a bad thing?
The Ultimate Gift – If you want to teach tweens and teens about work ethic, let them watch this. Twice. Manual labor and selfless giving? Yes, please. (P.S. The girlfriend is a tad sensual and slightly inappropriate.)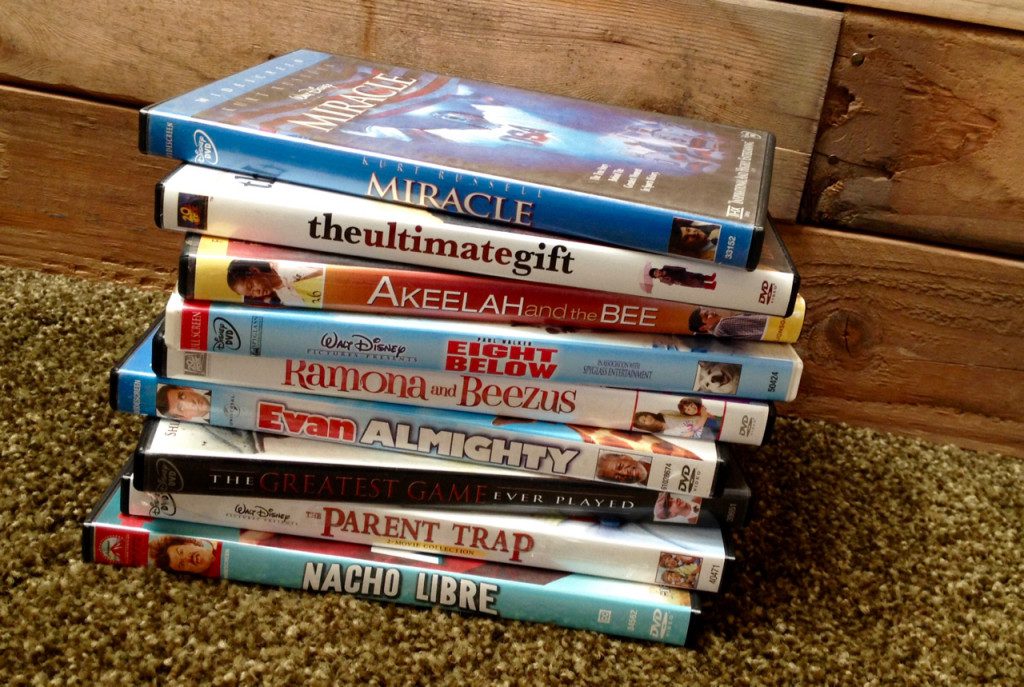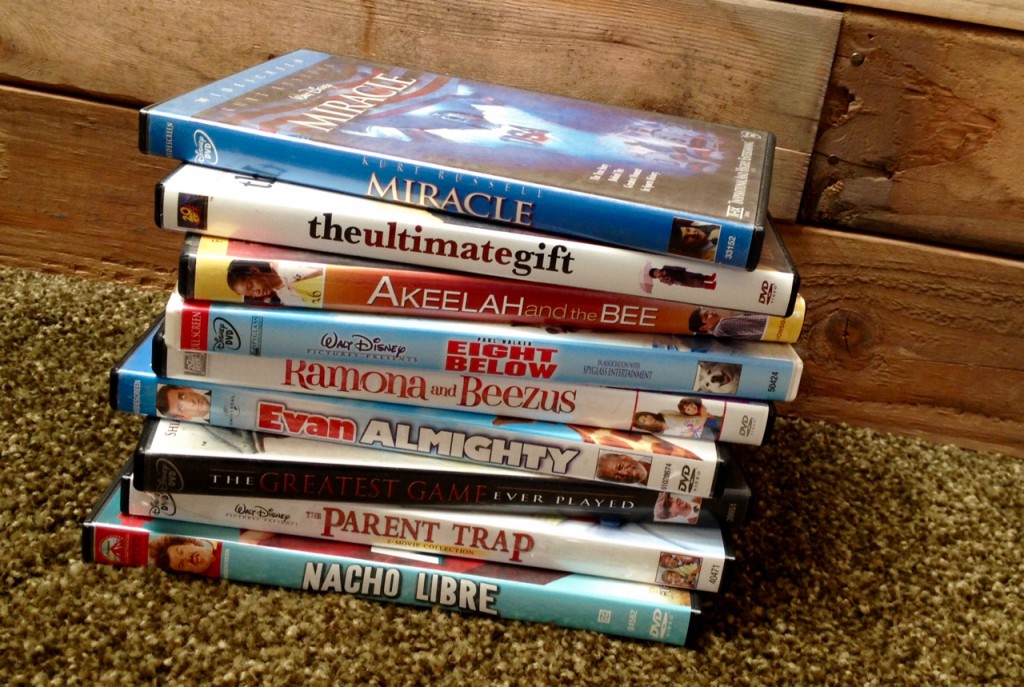 Now it's your turn! After you pop the corn, grab that cozy blanket, and enjoy a family flick, let me know what I missed. Surely you have a few favorites that aren't above, yes? Don't keep them to yourself—please share in the comments! I respond to every one.
And may the force be with you.