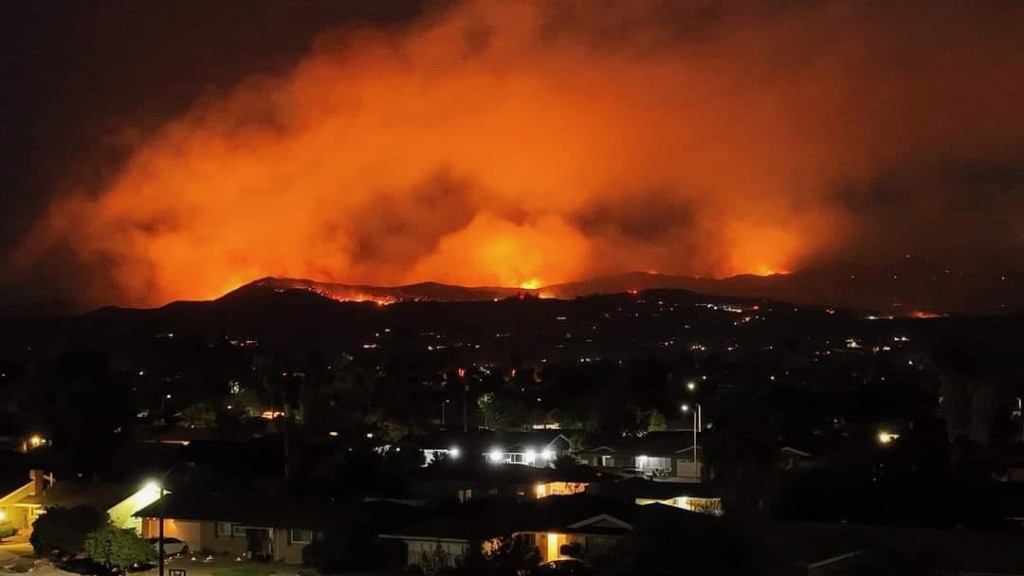 September Fire, Welcome Rain: The Disaster in SoCal This Week and How Your Family Can Help
If you hadn't heard of the town of Hemet before the 5th of September, you're not alone.
Nestled inland from the Temecula Valley and Riverside, it's not exactly a vacation destination. It's the town we go through to get to Palm Springs, Big Bear and Lake Arrowhead.
If you've never been there, here's some context:
In the 80s it was the land of orange groves and dairies—and my husband's childhood home.
In the 90s it was often referred to as "the land of newlywed and almost dead." With cheap homes and a gigantic retired population, it was a clash of old vs. young.
In the early 2000s crime was on the rise and some people wanted out.
In the 2010s, rumors that the L.A. jail system was bussing ex-cons to Hemet and dropping them off put others on edge.
And just a few miles away sits the de facto international Scientology headquarters; a huge and bizarre compound you would not want to be a part of.
Combine all that with a handful of garage meth labs, a growing fentanyl problem and one of the highest homeless populations in Riverside County.
So it hasn't exactly had the best reputation as of late. But there are a few solid Bible-teaching churches, and we have good friends as well as a couple family members who still live there. So it ain't all bad!
No matter the reputation, criticism softened this week and all eyes turned toward the small desert town that started going up in flames.
It Only Took a Spark
A small flame quickly turned into a battle zone when the blaze got out of control and started burning in all directions. Since then, every morning I've searched for updates I've been astounded to see how the fire either doubled or tripled in size.
Thursday it truly erupted, Friday morning it was up to approximately 27,000 acres, and then it started knocking on Temecula's back door. After taking an aggressive turn to the south, it crept into the outskirts of wine country, an area with large properties, tons of horses, beautiful homes, and multi-million dollar wineries.
With more than 2,100 firefighters involved, you'd think this battle would be knocked out already. But high winds, combined with dry brush and a hurricane coming from the south made a perfect hot disaster.
We know at least six families who had to evacuate, and assumed dozens more would follow in the next few days. While we watched and waited, we offered vehicles and manpower to friends in the red zones and made beds in case anyone needed to evacuate with nowhere to go.
But then… God sent rain! It's pretty rare to get rain around here in September, especially when it's between 102˚ and 106˚. Such a huge relief and help to the firefighters to see water from above.
It's not over yet though, so we keep praying. And a ton of damage was left in its wake, so we keep praying.
Even if you don't live nearby, there's always something you can do to ease the burden from those effected by fire.
Easy Ways to Help:
Pray:
So many times I think, "All I can do is pray," as if that isn't enough. But that should be my first line of defense! After that, I want to help tangibly, but I know prayer is our number one resource.
Volunteer:
Restaurants, food pantries and random good samaritans are banding together and serving fire victims and firemen. Find them on social media and jump in!
Donate:
The American Red Cross has a shelter set up in Temecula for evacuees (and their small animals) and is accepting donations for fire victims. Here's how you can contribute:
Call 1-800-RED-CROSS to donate with a credit card
Visit redcross.org to donate online
Make a $10 donation by texting REDCROSS to 90999
Have you ever had to evacuate? What surprised you the most? Have you ever housed evacuees?