Baby Steps, Bob: How to Replace the Overwhelming Thing with the Next Thing
If you've seen one of my favorite movies, What About Bob, you know taking baby steps (literally) is what got Bob Wiley out of his own head.
Repeating the words "baby steps" also got him on a bus, through a sliding door, and on a boat… all things that previously terrified him.
Similarly, if you've read Bob Goff's books or listened to his podcast, you know he loves the word ambition.
Always challenging people, he does a great job of encouraging his audience to figure out what they want and go for it.
Want more time with your family? Cut back your work week.
Want to help the homeless? Find a soup kitchen.
Can't find a soup kitchen? Start one.
Want to fly a plane? Take a lesson.
Sounds effortless coming from a man who already possesses ambition… and a bank account to back up all of his ideas. But he's obviously on to something.
What percentage of humans do you think go through their daily motions with brilliant ideas stuck in their frontal lobes? Can you even fathom all the brilliant products and experiences we could be a part of if every person had enough time and money to make them happen?
"The ones who are crazy enough to think they can change the world are the ones who do." -Steve Jobs
Big Picture, Small Steps
As I've gotten older I've noticed three things about myself when confronting new ideas:
Most of them sound overwhelming at the beginning.
Once I get going they usually seem more doable.
Even those that proved difficult end up being not as big of a deal in real life as they were in my mind.
Instead of panicking and cancelling the whole idea, I remind myself to focus on a doable solution.
For example…
Overwhelming Idea: Inviting all the neighbors over for dinner.
What you can do: Invite one neighbor over for dessert.
–
Overwhelming Idea: Choosing a church, making friends, getting involved.
What you can do: Show up on Sunday.
–
Overwhelming Idea: Moving to another country.
What you can do: Get a passport, pack a box.
–
Overwhelming Idea: Becoming fluent in another language.
What you can do: Learn how to order tacos.
–
Overwhelming Idea: Writing a book.
What you can do: Write a chapter.
–
Overwhelming Idea: Writing a chapter.
What you can do: Write a paragraph.
–
Overwhelming Idea: Painting your whole house.
What you can do: Paint one room.
–
Overwhelming Idea: Redesigning your whole backyard.
What you can do: Choose one fantastic plant.
–
Overwhelming Idea: Decluttering the whole house.
What you can do: Declutter one drawer.
–
Overwhelming Idea: Starting a business.
What you can do: Write a business plan.
–
Overwhelming Idea: Making a huge batch of fancy guac with nine ingredients.
What you can do: Eat an avocado.
–
Overwhelming Idea: Having 17 people over for Thanksgiving dinner and the weekend.
What you can do: Have everyone else bring the food since you cleaned the casa, ironed the table cloths, washed dog spit off the windows, decorated everything, made extra space in the fridge and freezer, de-gunked your oven, bought fun games, wrote name cards, inflated all the air mattresses, found 13 extra blankets and pillows, set the tables, recorded the parade, decluttered the kitchen counters, wrangled the kids, and already bought nine cans of whipped cream.
Sound familiar?
The Next Scary Thing
A few months ago I reached out to a real estate agent to tell her what my business partner and I do. Besides decluttering and organizing, I told her we can also stage houses before they go on the market.
A couple weeks later she contacted me to see if I could do a staging consultation at a client's house. I had never done a walk-through consult before but confidently answered "Sure!"
When I walked in, my initial thoughts involved insecure moments of nervous energy.
I've never done a formal consult with a stranger; I thought I'd just move furniture around, remove ugly pictures from walls, and ask the owners to take the dog food out of the kitchen. How am I supposed to suggest awkward changes? What if I wear heels and everyone else is in tennis shoes? When I sweat through my first shirt, should I change upstairs or in my car? What if they don't like my suggestions? Who do I think I am?
When I came to my senses, I talked myself down:
Get a clipboard & make a thorough list
Smile & observe with a keen eye
Scribble a million notes
Ask the realtor questions later
Type up the report
Breathe
Ahh, yes… the old oxygen trick.
Sometimes Often times the antidote I need for feeling overwhelmed is to simply do the next thing to get from point Ahh to Bay. (That's Spanish for "A to B." You're welcome.)
For some reason I continue to get wrapped up in the what-ifs though. What if it's a terrible idea? What if I change my mind and quit? What if I drop way too many pesos into this basket and the whole thing fails?
But Carrie… what if it's a terrific idea? What if you don't change your mind and continue? What if you drop a few pesos and the whole thing succeeds?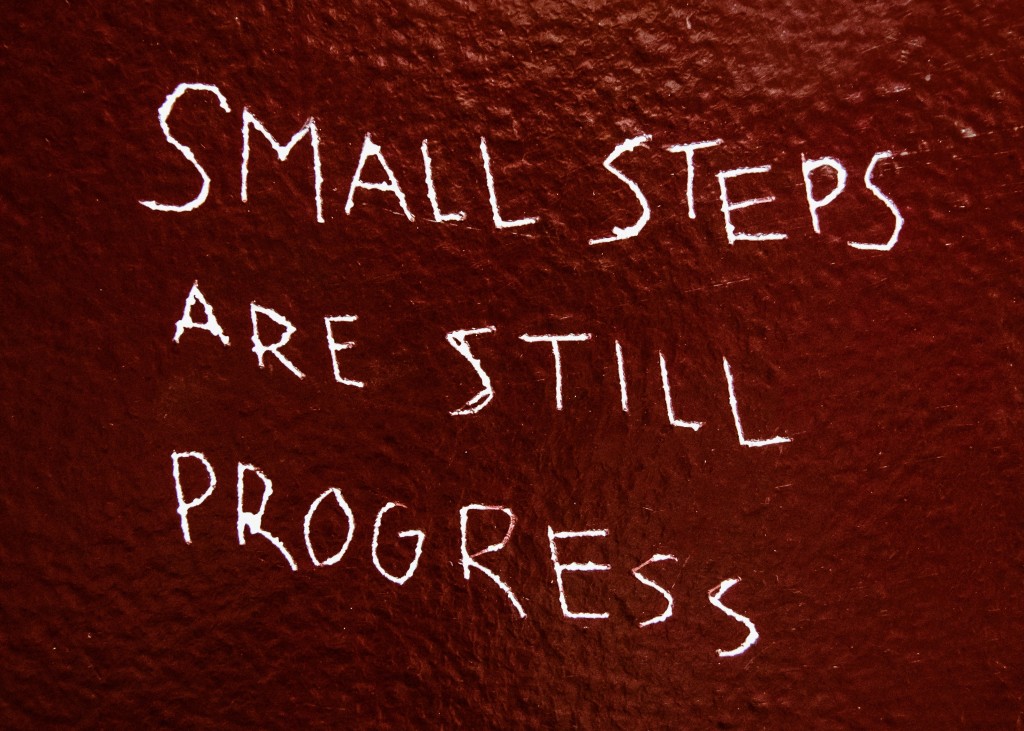 Baby Steps, Bob
Now that we're all baby-stepping in the right direction, where can you apply this at the moment? I'm applying it to my organizing business. What about you?
Starting a new job?
Getting married?
Taking on a huge project?
Having your first (or fifth) baby?
Writing a book?
Moving out of state?
Retiring?
Tell me in the comments. Let's inspire one another to go for it!
Fear says, "What if it doesn't work out?"
Faith says, "Ahhh, Bob… but what if it does?"