I Got Laid Off, He Got The Rona: 5 Things We Did to Recover
After a rough July and August, I put all my hope in the September basket that life would mellow out. But in the first week of the new month, I got laid off from my job and our oldest son got you-know-what.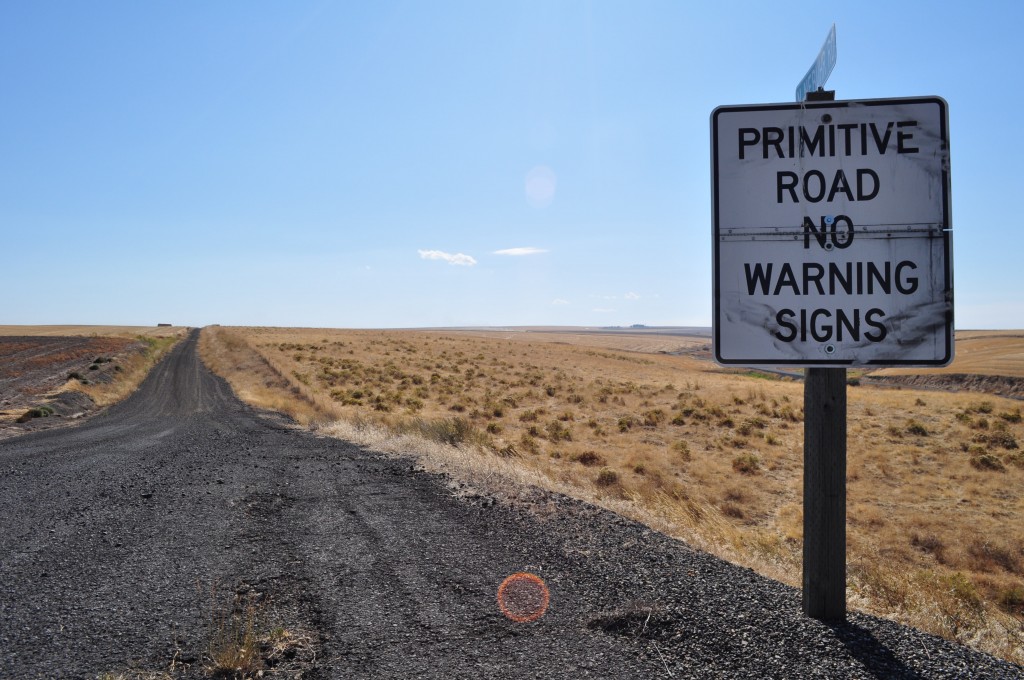 When he first came home from an afternoon of swimming, eating too much, and throwing a football in 112˚ weather, we assumed his sick feeling was heat stroke. Or food poisoning. Or both.
I mean, I might've uttered a nervous whisper that sounded something like, "That you, Rona?" But I mostly blamed it on the pulled pork and Hawaiian potato chips.
The next day his energy plummeted and he felt "off," so his boss ordered him to get a COVID test. Seemed unnecessary to me, but they were paying, so….
For a mere 150 smackers, our mall has a drive-though station where they swab your brain and get results in an hour.
Forty-five minutes later, his phone buzzed and his eyes bugged. "Whoa. It's positive."
"Very funny," I said.
"No, really. Look."
He flipped his phone and I read the only word that mattered: Positive.
Yowza. In the next 12 seconds, approximately 73 things flashed through my frontal lobe.
Should he leave the room?
Should I sanitize the room?
I hugged him this morning. And last night. And the day before that. Could the germs have been on his shirt? Did I accidentally suck them in?
Where's he gonna sleep?
Did we all use the same spoon to scoop dinner?
He and his brother high-fived. Twice. Did they wash before and after?
How many people have we come in contact with in the past week?
Should I tell everyone, or just our families?
Will people think we were careless?
How are the rest of us going to avoid this?
Do we really have to quarantine for 14 days, or is 10 okay?
How many Lysol wipes do we have?
Is he gonna end up on a ventilator?
And on and on I went. It wasn't panic-mode… more like concerned-mode. My personality encompasses 'doing' and 'helping,' so of course I kicked it into gear and came up with a plan. My people looked thrilled.
Here are the top five things we did to banish the bug:
1. We Kept Him Out of the Kitchen
No cooking, touching the sink faucet, opening the fridge, pouring water, nada. I am a huge proponent of teaching kids to fend for themselves, but suddenly I felt happy to serve him.
We trust our dishwasher, but I didn't want her to have to deal with Rona too, so I dished his food on paper plates and he used plastic silverware at every meal. And then he tossed everything straight into the trash.
*
2. We Hammered the Vitamins
When I told a friend I made a vitamin spreadsheet to keep myself organized, her husband clapped back, "Don't leave me off of the vitamin spreadsheet train – soooo jealous!"
Poor guy. He must not have enough charts and checklists in his life.
ANY-who… here's what we all started taking, morning and night: Quercetin, Bromelain, Vitamin C (tons), Zinc and Vitamin D.
*
3. Oils: I Diffused, He Absorbed
It's okay if you're still not sure about these wondrous drops; I was a skeptic too. But years ago I stuck a prescription in a drawer and wiped out a double ear infection with oils, which surprised and delighted me, and I never looked back.
So when my son said he didn't feel good on day one, I started diffusing immune-booster blends. And when his lungs felt tight on day three, he rubbed eucalyptus all over his chest. That's the day he lost his taste and smell too. That's also the day I accidentally let my mind go to some dark places, but that's a different post.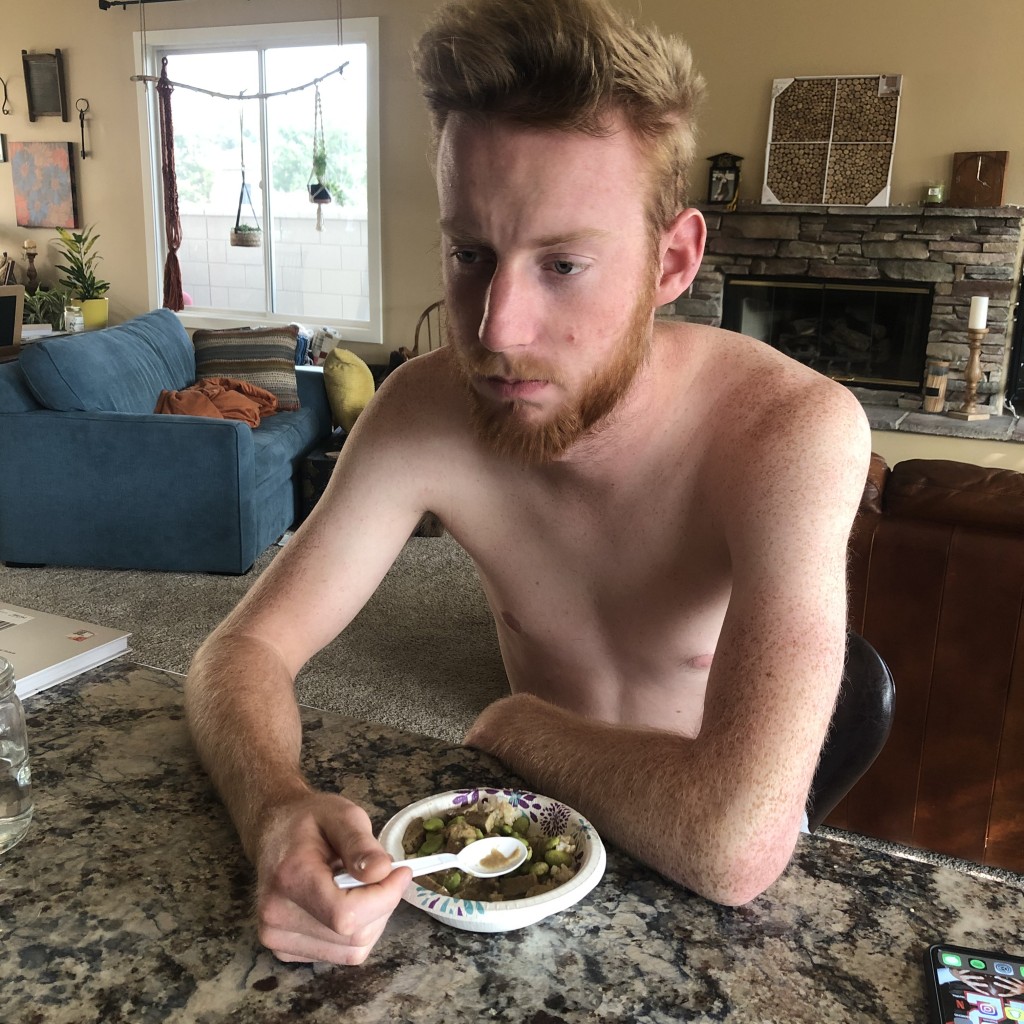 *
4. We Prayed
Whether or not you believe in the power of prayer, putting your trust in God is an act of faith. Even though we get nervous about potential outcomes, we have faith He hears us and wants what's best for us.
So we prayed–constantly. At breakfast, at dinner, before bed, and throughout the day.
*
5. We Ate Outside
Warm SoCal weather begs for outdoor eating anyway, but I felt passionate about not sharing a small indoor table anymore. So we moved our dinner party to the back patio and sat far apart. "Pick a chair," I said. "That's yours for two weeks."
Our conversations vacillated between pointless, weird, meaningful, and inappropriate. But our time outside extended beyond eat and run because… well… we couldn't go anywhere. So we lingered.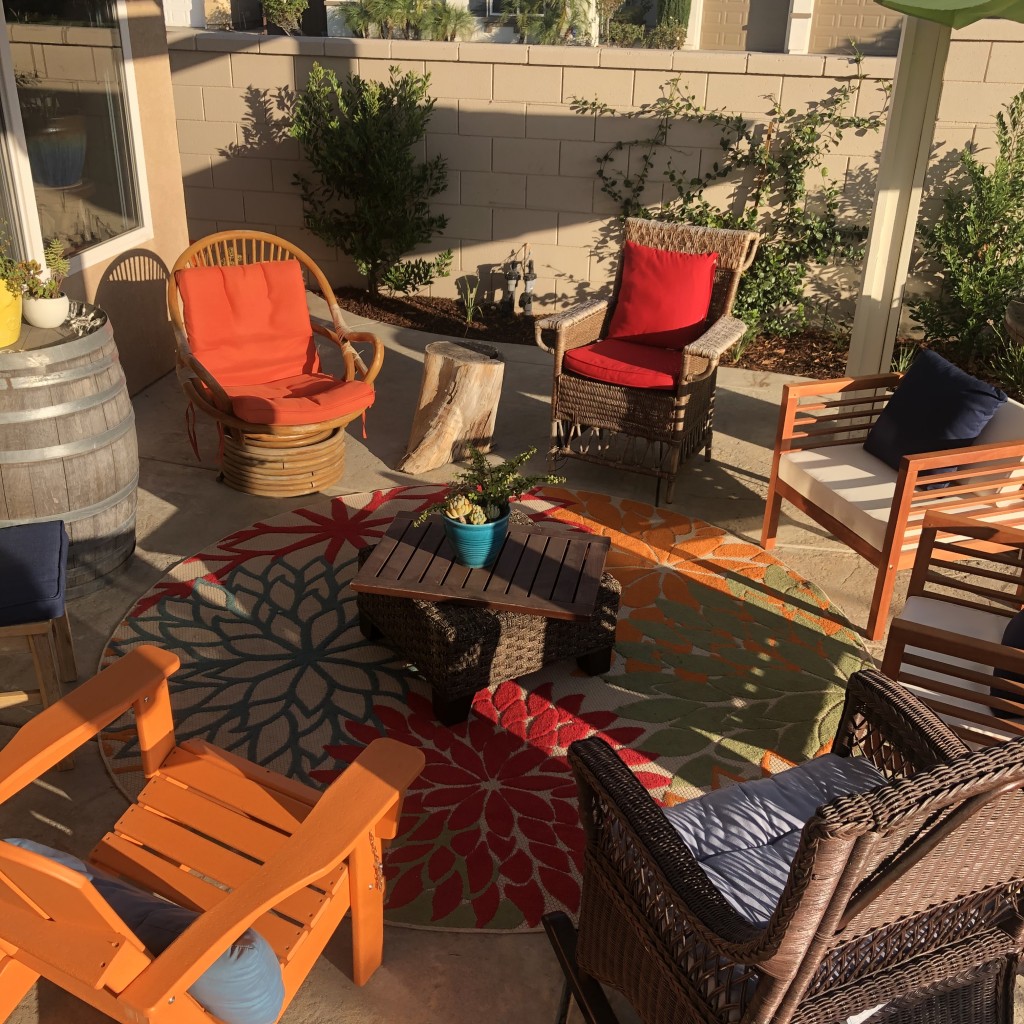 *
Clockin' Out
As for my layoff, I didn't see it coming. But obviously God did. I was offered another position (demotion) and a pay cut (significant), but decided it wasn't a good move for me or my family. Friends sent encouraging texts, and a small group even dropped off flowers, but I still had to fight feelings of failure and rejection.
Here are the top five things I did to banish the layoff blues:
*
1. I Left with My Chin Up
In the midst of complicated situations, it's easy to play the what-if game, question God, and whine about all the things I can't control.
But I knew I gave 100% to my job, so I walked out with zero regrets. Habitat for Humanity was a great place to work, and I learned quite a bit about myself and the housing industry. I didn't understand why God closed that door (remember my Praying for Closed Doors post?), but I'm learning to be okay with not knowing.
*
2. I Filed for Unemployment
The Employment Development Department hasn't had the best reputation since March, but I found the whole process to be slick. Not as slick as a polished marble floor covered in coconut oil, but still.
Sign up, wait two weeks, claim the days you didn't work and bam—money on a card, ready to go.
*
3. I Beefed Up My LinkedIn Account
I've never been a huge fan of networking on this platform just for the heck of it, but when it came time to look for a job, I felt grateful for the pile of connections from writing and editing.
Some of the job titles I'm finding though? They make me wanna apply just for the funny of it:
Meat Order Writer for Whole Foods (That's not the kind of writer I meant.)
Grandmothers for Reproductive Rights (Huh?)
Visual Arts Instructor at The Salvation Army (So like, decorating with junk?)
Truck Driver in West Texas: must be willing to relocate (Ya think?)
Can't I just declutter and organize people's homes while writing and editing their manuscripts? Is there a category for that? #goals
*
4. I Sell Quality Junk Online
Between Levi's, video games, scrapbooking supplies, Legos, wetsuits, an agriculture scale, fall decor, snow chains, and books, there's something for everyone. Even though I'm not making millions on Facebook Marketplace or OfferUp, I'm finding enough success to never do another garage sale. Ever.
And I've only had two rejections from the apps! They said my son's bow and arrows are weapons… and the fluffy fanny pack with a moose head on the front? They think it's a live animal. So that's exciting.
*
5. I Pray for His Timing
When I only had a couple decades under my belt, I intellectually knew about God's grace, timing, and plan. But now that I possess a couple more decades, I know about such phenomenons because I've lived them.
So when I feel discouragement creeping in, I rest in the fact that God knows exactly what I need and when. If it's true He's never late and rarely early, that leaves "on time" as His claim to fame.
What about you? Have you lost your job? Battled Rona? Had your fanny pack deemed illegal? Join me as I research, rest and stand ready.
Honestly, I'm not interested in truck driving, but I guess I can write meat orders if that's truly where God wants me.
#grassfed
*
*